QBPC 2018 April Membership Meeting Held in Zhongshan
Time: 2018-04-10 09:00:00 ~ 04-11 18:00:00
Contact:
Contact Person:
Location:
Golden Diamond Hotel 33, Kanghua Road,Shiqi District, Zhong Shan City, Guangdong Province.
| Meeting name | Time | Seat remaining | Operation |
| --- | --- | --- | --- |
| QBPC 2018 April Membership Meeting | 2018-04-10 09:00:00 ~ 04-11 18:00:00 | 300 | |
News Release
GATHERING IN ZHONGSHAN!
­— QBPC April Membership Meeting Held in Zhongshan
Text/Photos Ariane Yu
April 10th, Day 1
QBPC 2017-2018 Annual Top Ten Cases in IP Protection and Model Cases Bridging Administrative and Judicial IP Enforcement (referred to as "Annual Top Ten Cases ") Selection
The Quality Brands Protection Committee (referred to as QBPC) started the annual top ten case selections in 2002 and continues to do so today. The 17th selection will be carried out this year: The top ten Criminal Cases, top ten Non-Criminal Cases, and five "Model Cases Bridging Administrative and Judicial IP Enforcement" would be selected for the year 2017-2018 on this day.
The selection meeting was held at 9AM on April 10th punctually. Firstly, the top ten Criminal Cases were selected. Leon Lv, Vice Chairman of the QBPC Best Practice/Enforcement Committee (referred to as BPEC) and Brand Protection Manager of Eaton Asia Pacific, presided over this event.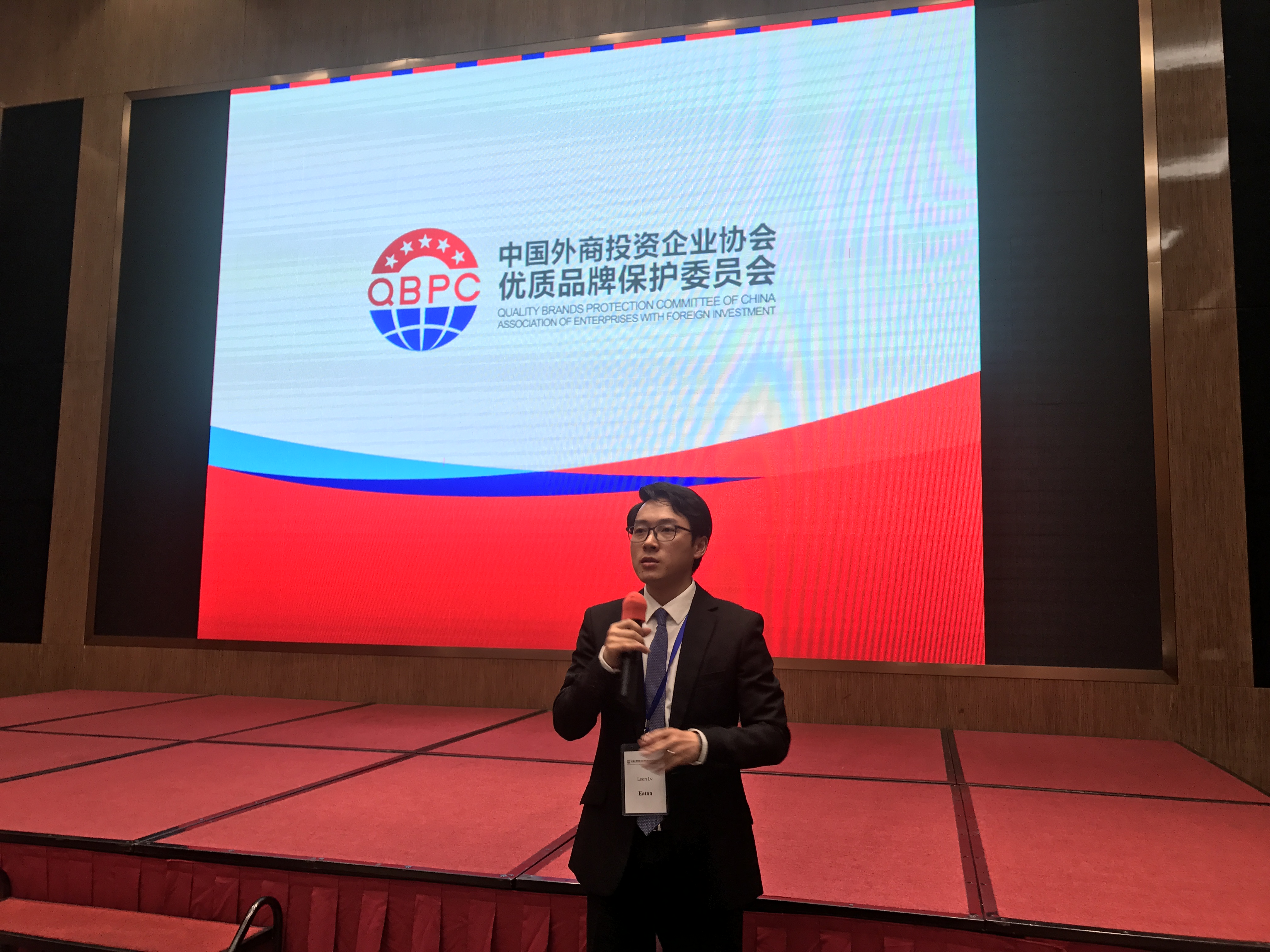 Leon: I am very glad that we are gathering here in Zhongshan. Zhongshan is a famous city for its history and culture. It is the hometown of Mr. Sun Yat-sen, who advocated Nationalism, Democracy, and People's Livelihood. The "democracy" refers to democracy and the rule of law, which is consistent with the law of rule, particularly within IP law system improvement, concerned and driven by QBPC. I hope we can achieve various tasks throughout this meeting and drive close communication between QBPC and the law enforcement and judicial department in China to protect the profits of members and promote progress within the legal environment in China.
The purposes of best practice selection are to, on one hand, propagandize excellent and typical law enforcement and judicial enforcement cases of China, and promote these outstanding experiences to other places; on the other hand, member enterprises can learn about said favorable experiences and practices by directly participating in the selection/sharing in order to develop new thinking and enhance their problem-solving skills.
I propose that everyone participates in a discussion on practices, asks questions, and interacts with each other. We should consider this meeting an opportunity for learning and communicating. Moreover, in this year's best practices selection, winning members will receive approval as encouragement and praise for their positive endeavors made to this platform. "
In total, nineteen cases were submitted this year for the Criminal Case category. Representatives from Abercrombie & Fitch, Apple Inc., Emerson Electric Co., etc. presented cases one by one to the Review Committee and QBPC members on site, sharing aspects such as the case introduction, case results, and recommended causes.
The Non-Criminal case selection began as soon as the Criminal Cases were all selected. In total, fifteen cases participated in the selection. Zhang Hongkai, Vice Chairman of BPEC and Legal Counsel of Universal Studios Greater China, presided over this session. Representatives from member companies, such as Burberry, Honeywell, and Schneider Electric presented their cases' introductions, case treatment results, and recommended causes.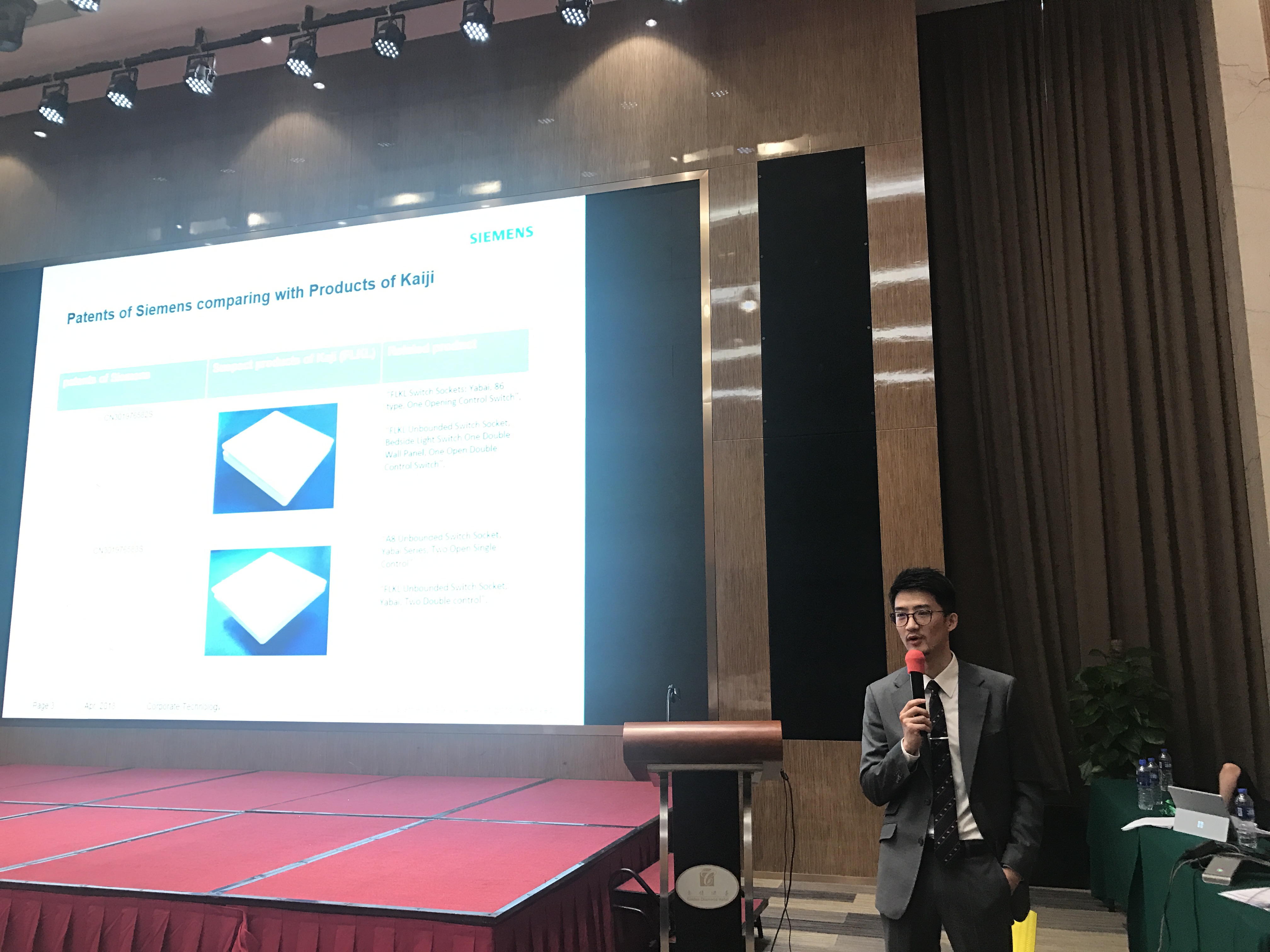 Zhang Hongkai: "We have received fifteen cases for the Non-Criminal case selection this year. Each case has its own highlights. Many cases caused active discussion and questions from member enterprises within the introductions. Many rights holders who participated in the Non-Criminal case selection also attended the typical practice selection of Criminal Cases this morning. Besides the criminal approaches for infringement of IPR, the rights holders also actively cooperated in order to recommend the exploration of IP protection by the means of administrative law enforcement and civil actions. Quoting some adjectives used by candidates in their presentations, I believe these pioneering explorations and practices will provide "multi-level and systematic" solutions and references for more IP protection to more right holders."
In the law enforcement of intellectual property rights, QBPC members are very concerned about the connection between administrative law enforcement and criminal justice, which is often referred to as the "Model Cases Bridging Administrative and Judicial IP Enforcement". In total, four cases participated in this year's "Model Cases Bridging Administrative and Judicial IP Enforcement" selection. Felix Zhang, Vice Chairman of BPEC and person in charge of Asia Pacific Anti-Counterfeiting of Novartis Global Safety Department, presided over the selection. Representatives from 3M, L Brands Inc., and other companies stated their case introductions, case treatment results, and recommended causes.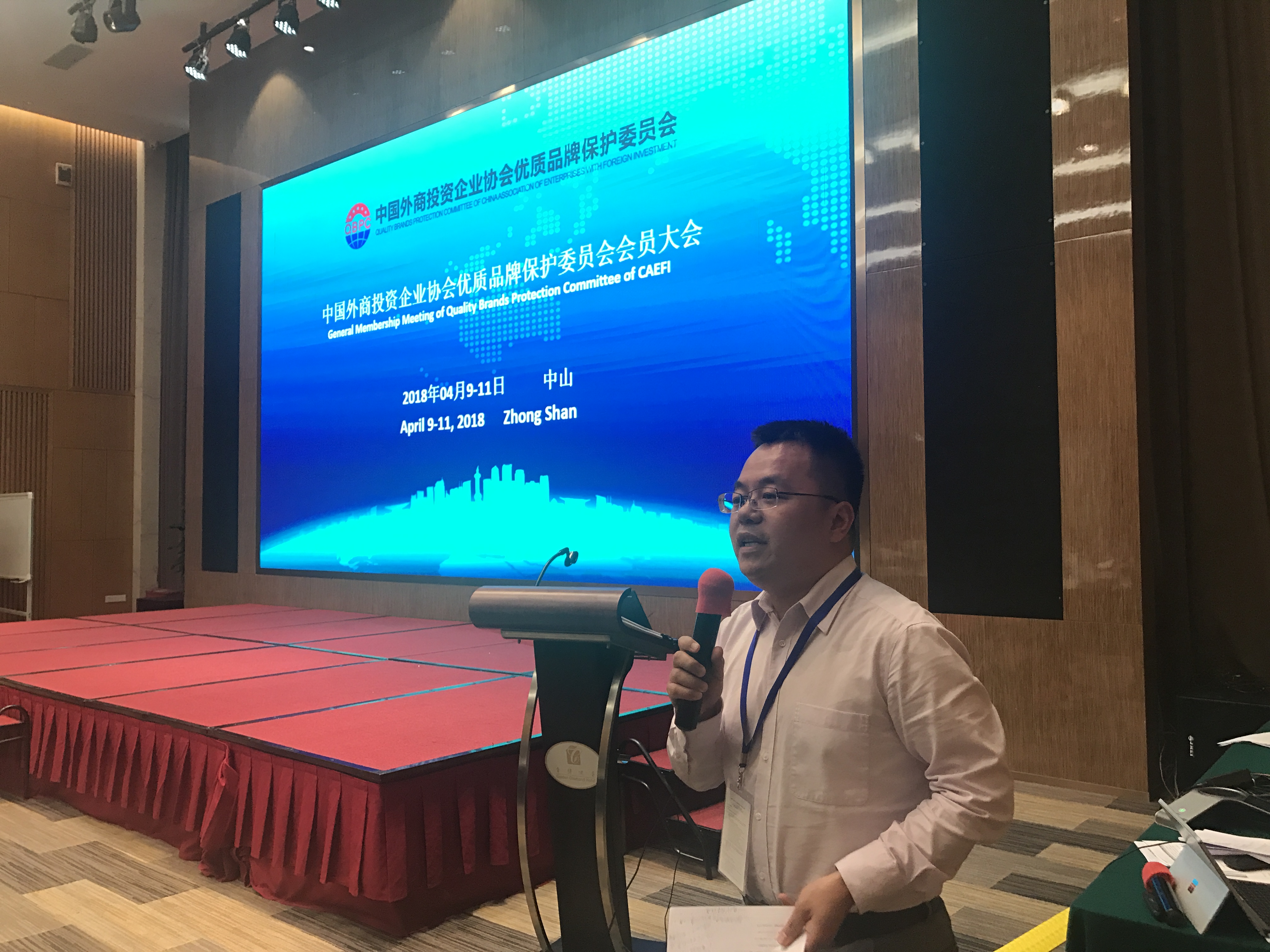 Felix: "I want to express our gratitude towards all candidates by giving a warm applause for their splendid contributions. I have participated in the preparation of several annual case selections, and I know how difficult it is to prepare these cases. Many members may start selecting their ideal case one or two months earlier, elaborately preparing an introduction and then sharing and answering questions on site. I appreciate your active participation. The selection is the annual blockbuster project of the BPEC. We hope we can bring a new industrial trend analysis, new ideas, and new inspirations to you through communication, discussion, and subsequent case promotions. I wish all members an improvement in the practice of brand protection!"
Voting started after all case statements were finished, followed by onsite vote counting. Finally , the case Criminal Conviction against LIU and others for Making & Selling Shoddy Goods for Refurbishing and Assembling Fake Honeywell Scanners, submitted by Honeywell International Inc., and 11 other cases were selected in the Criminal Case category (three cases tied for 10th place in the Criminal Case category since they received the same amount of votes). The case Electronic versus Ye and 8 other defendants infringing trademark rights and unfair competition, submitted by Eaton China Investment Co. Ltd., as well as nine other cases were selected in the Non-Criminal Case category, and the case Criminal Action against LIN Dayang for the Sale of Counterfeit Trademark Goods, submitted by 3M, and three other cases were selected in the Model Cases Bridging Administrative and Judicial IP Enforcement category.
April 11th-Day 2
QBPC and Guangdong Zhongshan Law Enforcement Agencies
&
QBPC and Tencent Group Exchange Meetings on Intellectual Property Rights Protection
On April 11th, Chen Xudong, Secretary of Municipal Party Committee of Zhongshan, Xu Xiaoli, Deputy Major of Zhongshan, Li Changchun, Vice Chairman of Municipal Committee of CPPCC and Secretary-General of the Municipal Party Committee of Zhongshan City, and leaders from the Zhongshan Public Security Bureau, Zhongshan People's Procuratorate, Zhongshan People's Court, Zhongshan Municipal Commercial Affairs Bureau, Zhongshan Administration for Industry and Commerce, Intellectual Property Office of Zhongshan, Zhangshan Customs District, and other agencies arrived at the QBPC April Membership Meeting site and attended the exchange meeting. Chen firstly welcomed QBPC and its members on behalf of Xu Xiaoli, Deputy Major of Zhongshan. Chen particularly affirmed the important role of QBPC in bridging the government and enterprises in his speech, and expressed gratitude on behalf of the Zhongshan Municipal Party Committee and Zhongshan Municipal Government to QBPC for its endeavors in and contributions to the economic and social development of Zhongshan. Chen emphasized the ten measures General Secretary Xi Jinping announced for China's open doors in the opening speech of the 2018 Boao Forum for Asia on April 10th. Two of the measures are closely related to IPR protection, showing the high attention paid by the Chinese government in this regard. The Exchange Meeting adhered to QBPC's tenet of enhancing communication with the government. About 90% of contradictions in the world are caused by misunderstandings, while 90% of misunderstandings are caused by lack of communication. Therefore, it is very important to establish a platform and mechanism for exchange, communication, and coordination. Thus, this Exchange Meeting was of great significance.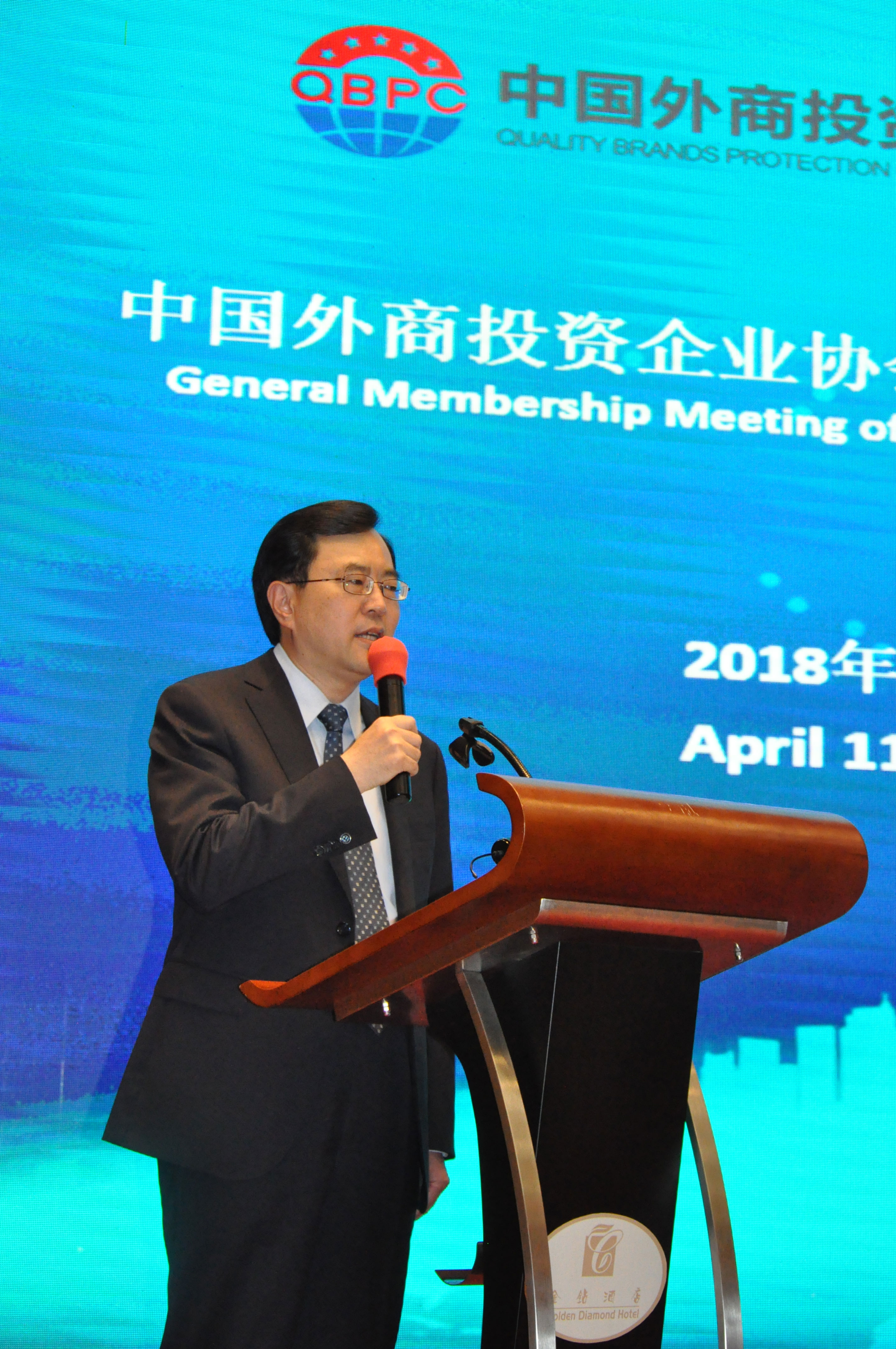 Chen introduced the history and economic development of Zhongshan with passion to the attending guests. In terms of IPR protection, Zhongshan is a National Intellectual Property Demonstration City, and has the first IPR remote litigation service office and the first IPR fast protection center in China. It has preliminarily established an IPR fast protection system for three characteristic industries including lighting, home appliances, and black wood furniture. Zhongshan has made firm progress in building the economic system and development mode supported by IPR protection and led by innovation-driven development.
According to Chen, Zhongshan is trying to seize the opportunity of Guangdong - Hong Kong - Macao Greater Bay Area construction, and strive to build Zhongshan into a supporting point for the integrated development of the areas by Pearl River Banks, a pivot city in the coastal economic belt, and an important pole of the Guangdong - Hong Kong - Macao Greater Bay Area. Chen expressed his wish that, on the occasion of the General Membership Meeting of QBPC in Zhongshan, the cooperation between the sides could be further deepened by the joint establishment of an exchange and communication platform, so that their ability to create, exercise, and protect IPR could be constantly improved. Enterprises in Zhongshan should act as a model for IPR protection. Infringement behaviors of any enterprise, once found, must be investigated. With higher cost of infringement and a full play to the overawing role of laws, IPR protection may be made a key element of the market-oriented, international, and legal operation environment of Zhongshan. Consequently, Zhongshan will make a larger contribution to the development of Guangdong as the safest, most just, and most fair market with the best legal environment.
Chairman of QBPC, Jack Chang, said in his speech that in recent years, Zhongshan has made great achievements in IPR protection. QBPC will keep in touch with Zhongshan, and urge both sides to sign the Memorandum of Understanding on IPR and carry out an in-depth cooperation in popularizing IP knowledge, improving the IP work mechanism, pushing IPR protection cases, promoting the rapid response of enterprises to rights protection and, promoting the urban image of Zhongshan.
Zhang Junfeng, Deputy Director General of Zhongshan Municipal Commercial Affairs Bureau, Jiao Xuejun, Vice Investigator of Intellectual Property Office of Zhongshan, Xu Hongni, Presiding Judge of Civil Court III (IP Court), Zhongshan Intermediate People's Court, Lin Zhicheng, member of the Leading Party Group and Deputy Director General of Zhongshan Administration for Industry and Commerce, and Tian Tao respectively introduced the situations in their work fields. Zhu Honglan, Vice President of A.O. Smith, a member company of QBPC, introduced their rights protection experience in Zhongshan, demonstrating the professional, efficient, fair, and just work of Zhongshan administrative and judicial organizations, without favoring local infringing enterprises, in IPR protection through a true case.
QBPC and Tencent Group Exchange Meetings on Intellectual Property Rights Protection
On April 11th, the Exchange Meeting on IPR Protection between QBPC and Tencent attracted many members. Zhong Youwen, in charge of the Tencent Information Safety Department, and Wang Bin, Tencent Senior Client Manger, communicated face to face with QBPC. It was a coincidence that earlier, Tencent and AstraZeneca Plc., a member of QBPC, worked together in fighting drug counterfeiting not long ago.
Zhong introduced the big data-driven internet technology of Tencent within IP protection, especially within the food and drug field, and such solutions are accurately attacking online drug counterfeiting.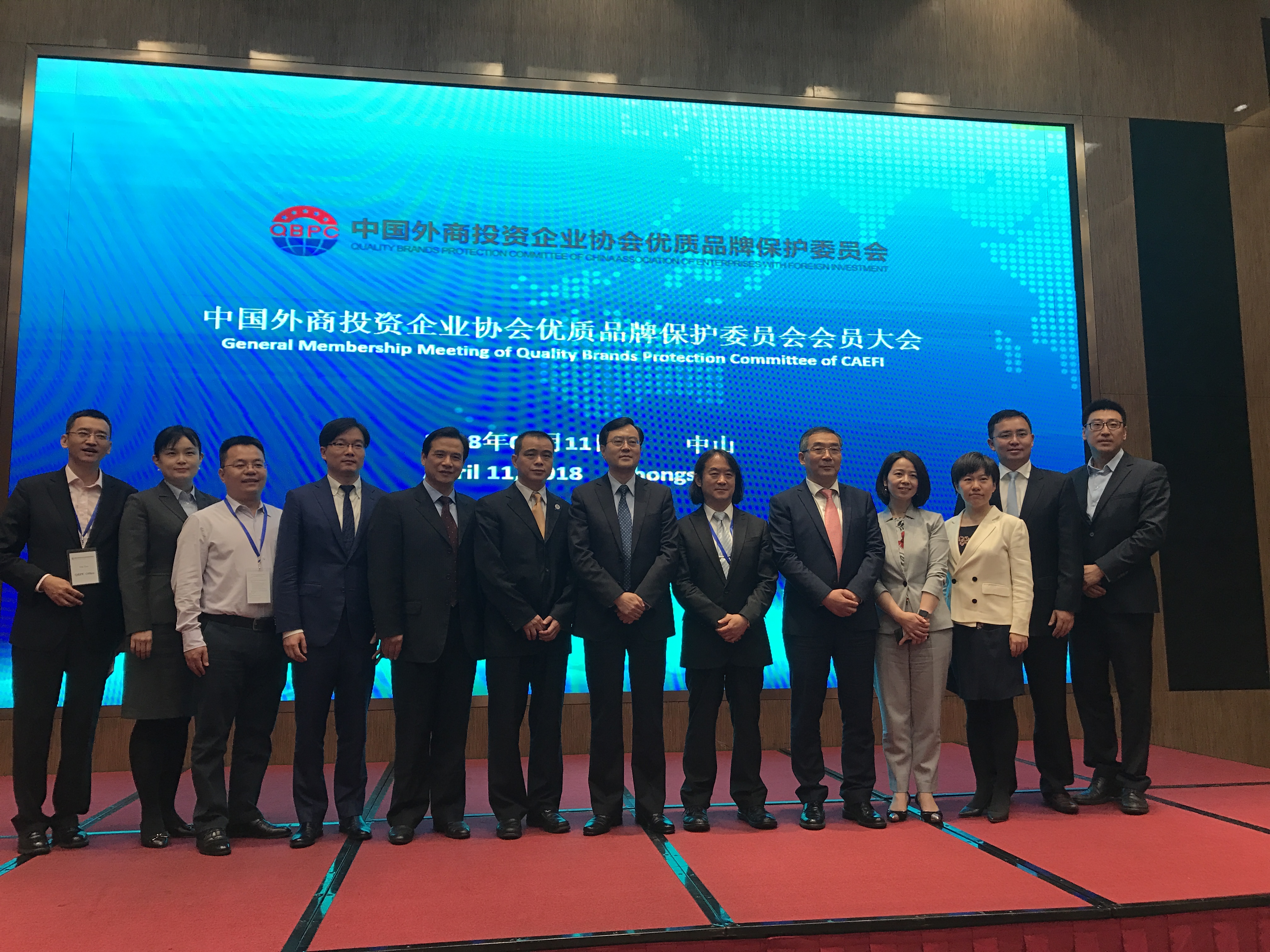 Food and drug safety is a key livelihood issue. Now that the internet has full access to the lives of people, the counterfeiting of food and drugs has entered a new outburst period, showing characteristics of a high amount of extensive fake products as well as diversified approaches. It being difficult to discover said counterfeit products, it is also difficult in-time interdiction and to track the products to the internet food and drug source. Tencent, based on the situation awareness system developed by its laboratory, set up an internet food and drug big data supervision index platform which provides technology for the most important supervision links of food and drug safety. Tencent offers rule learning, association mining, and early warning treatment for the counterfeiting of food, drugs, and cosmetics. This system is able to actively perceive whole-network food and drug sales and give an early warning, affecting counterfeiting organizations, and provides references for public opinions such as staff tendency, their exponential trend, geographical distribution, and subject correlation for cooperating law enforcement organizations in order to identify linked investigations, form joint fighting forces, and build whole-chain internet food and drug supervision solutions.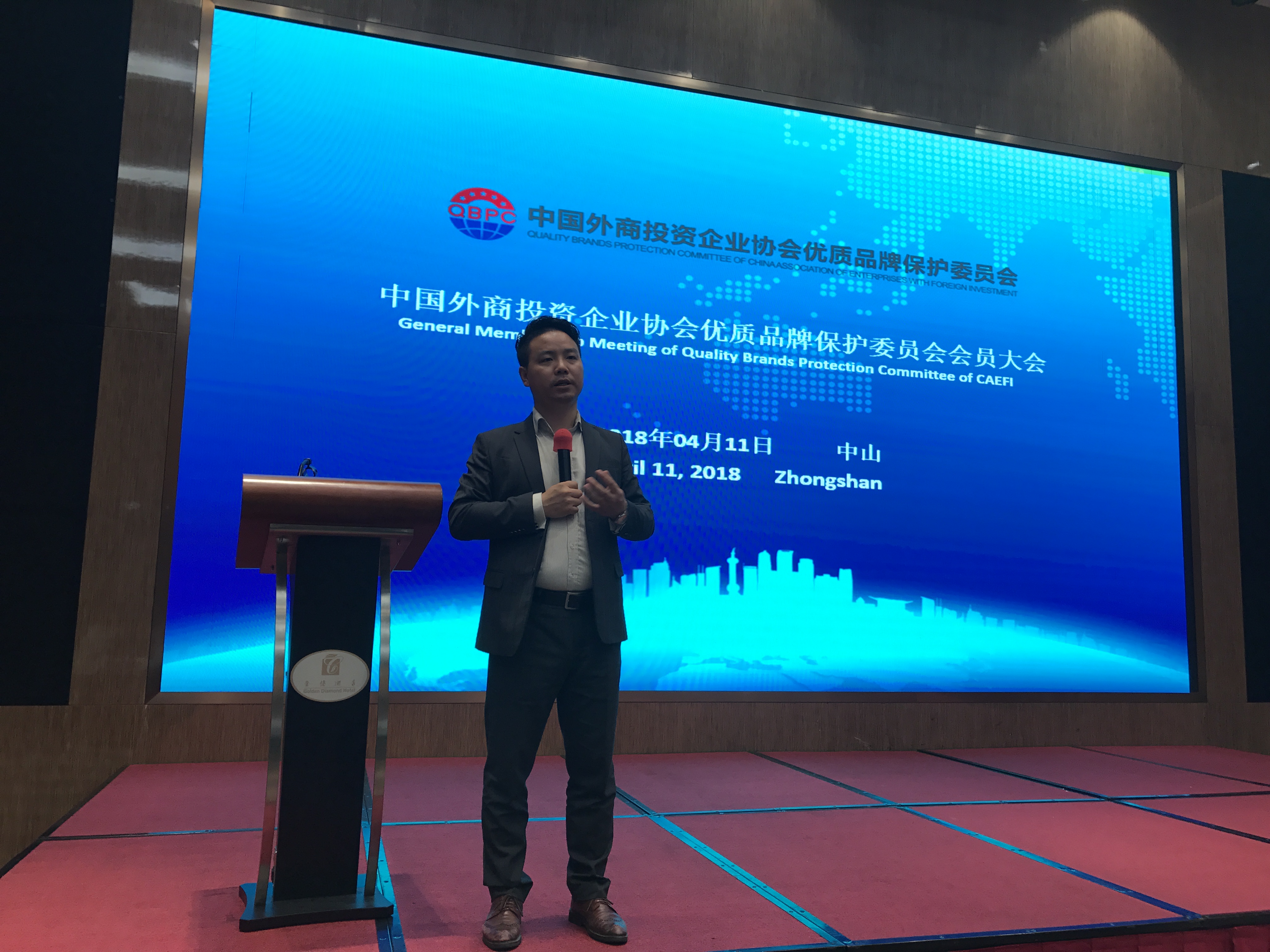 Zhong also introduced the entire process of Tencent in detail, including early warning perception, fighting interception, traceability, and offline fighting. In the early warning perception stage, Tencent Security can identify 100-million level samplings for data, such as whole network clientele, website and network nodes, and show the security status of the whole network in real time; in the interception fighting stage, with capacities of Tencent series products and cooperative manufacturers, the billion-level social network and browser terminal blocking, mobile and router ecological cooperation blocking, and operator process level assistance blocking can be realized; in the tracing and evidence obtaining stage, the whole-process news of the black industry from the counterfeiting website to the host computer IP can be traced completely.
Zhong and QBPC members discussed problems regarding IP protection, counterfeiting fighting, and a WeChat brand protection alliance.
This membership conference was also supported greatly by QBPC's member Perfect (China) Co. Ltd. We hereby express our gratitude to Perfect (China) Co. Ltd. specifically!