On September 8, China International Fair for Investment and Trade (CIFIT) – China Foreign Enterprises Exhibition & Health Industry Matchmaking - IP Protection Forum came to a successful conclusion in Xiamen. With a theme of Intellectual Property Rights – an Escort for Innovative Future, the event was co-sponsored by the Organizing Committee of CIFIT and China Association of Enterprises with Foreign Investment (CAEFI) and co-hosted by Quality Brands Protection Committee (QBPC) and ITG Phenix. It aimed to build a platform for relevant government officials, scholars and business representatives to discuss the status quo and prospect of IPR protection in China, further promote IPR protection, and escort innovation. The forum was moderated by Cao Hongying, Vice Chair of CAEFI.
Cao Hongying
In his opening speech, Chen Deming, Chair of CAEFI, welcomed and thanked the guests for their participation. He pointed out that with the rapidly changing science and technology in today's world, the intellectual property system, as a basic means to stimulate innovation, a basic guarantee for the driving force of innovation and a core element of international competitiveness, had been playing an increasingly critical role. He said, strong protection of IPR was conducive to building a modernized economic system, stimulating the innovation vitality of the whole society and promoting the construction of a new development pattern. It was hoped that, through this forum, the industry elites could share their insights and interact with participants.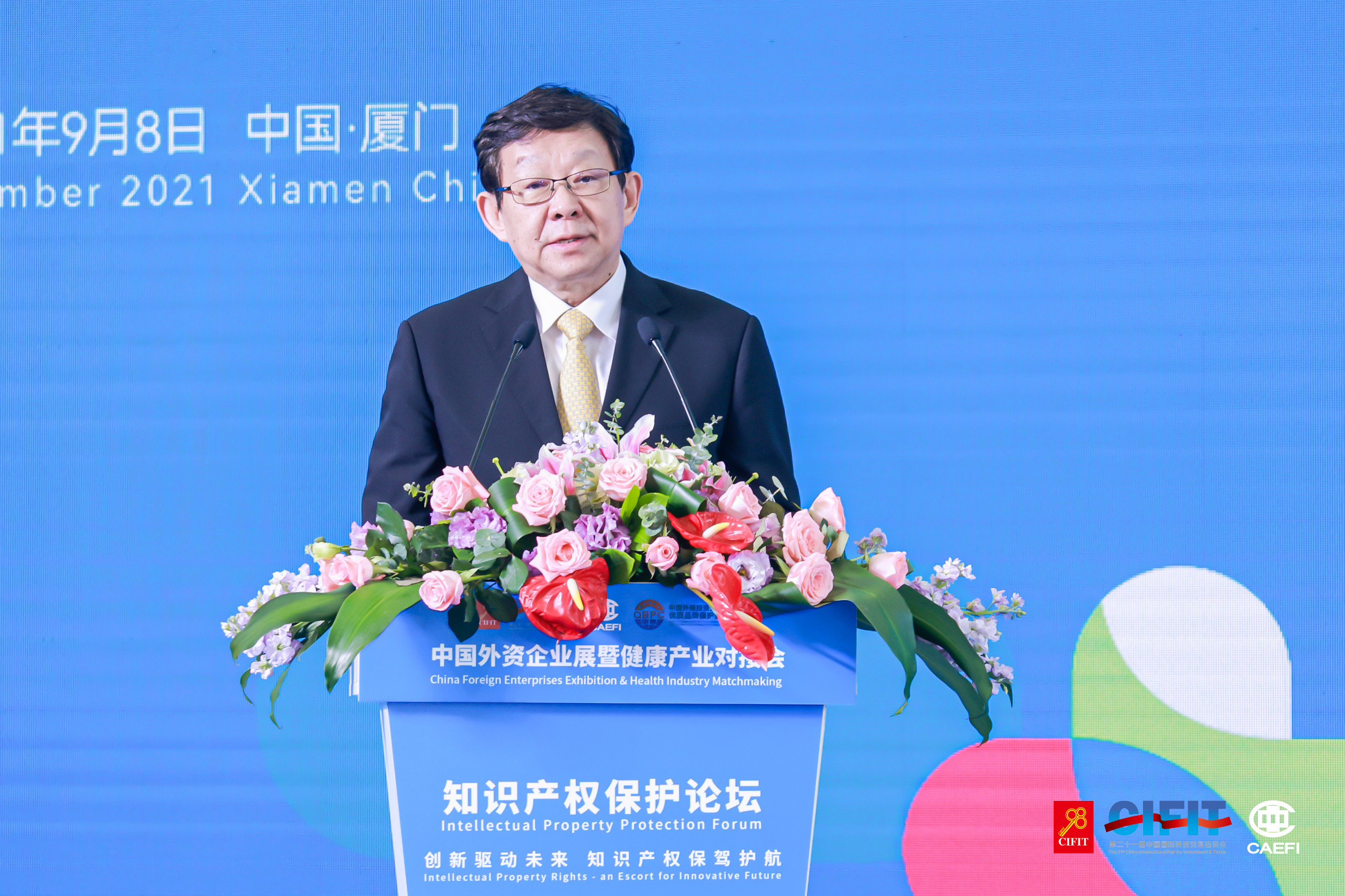 Chen Deming
Gan Lin, Director General of National Leading Group Office on the Fight against IPR Infringement and Counterfeiting (NLGO) and Vice Minister of State Administration for Market Regulation (SAMR), spoke highly of China Foreign Enterprises Exhibition & Health Industry Matchmaking Conference and relevant thematic forums co-sponsored by CAEFI and the Organizing Committee of CIFIT. The events could effectively promote two-way investment and trade through "Bring In" and "Go Global" strategies, and build a new pattern of development in which both domestic and international circulation would promote each other. On the issue of IPR, she said, "the Chinese government has always attached great importance to the protection of IPR, including IPR in the health industry, which is in the long-term interests of its own development. We have blazed a trail of IPR development with Chinese characteristics and in line with international rules, made historic achievements in IPR protection, and raised the public's awareness of respecting and protecting IPR."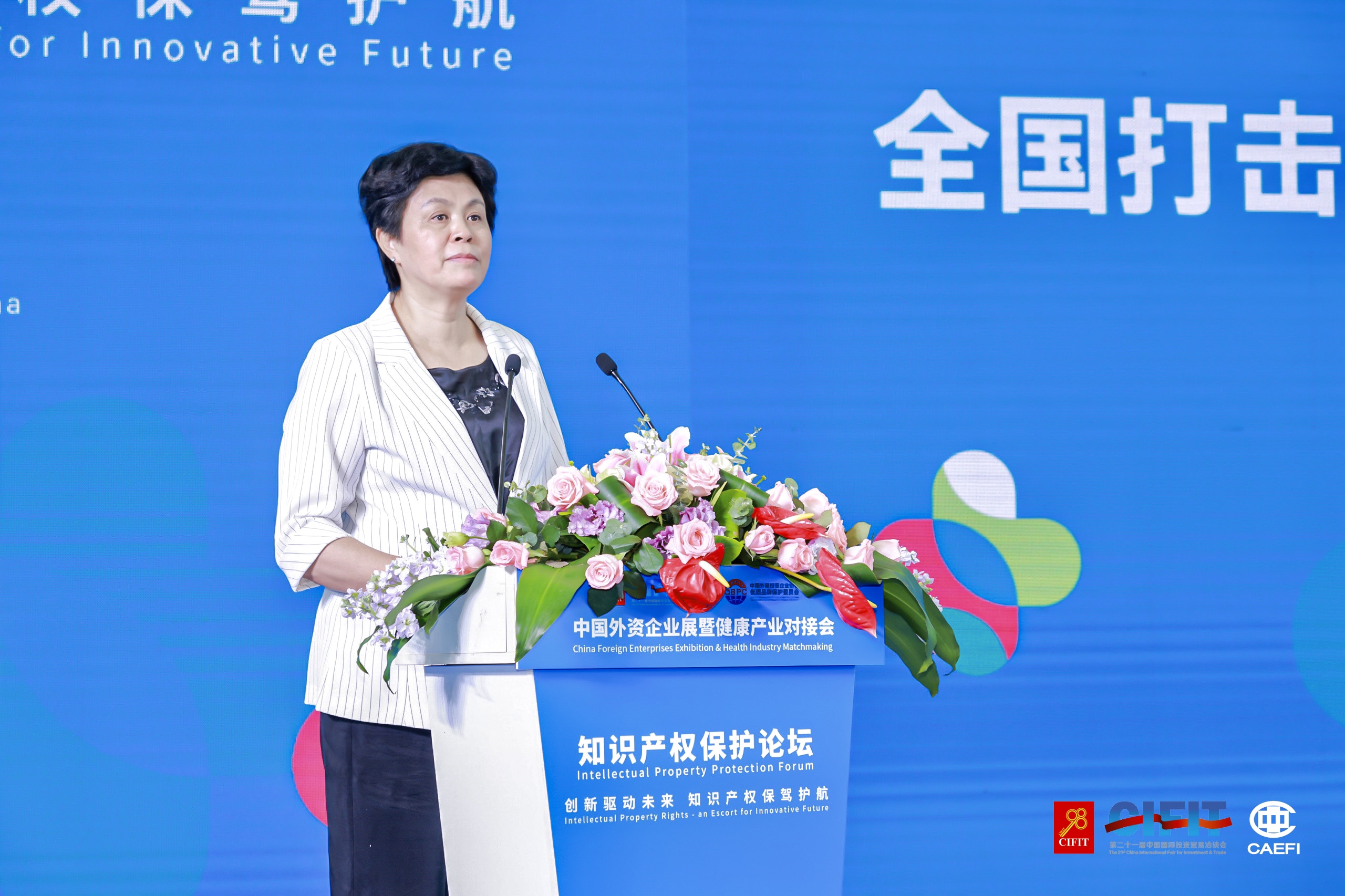 Gan Lin
Professor Huang Wushuang, Director of IP & Competition Law Academy of East China University of Political Science and Law, made a detailed and in-depth explanation and analysis of the latest amendments of laws and regulations concerning IPR, especially trade secret protection in China.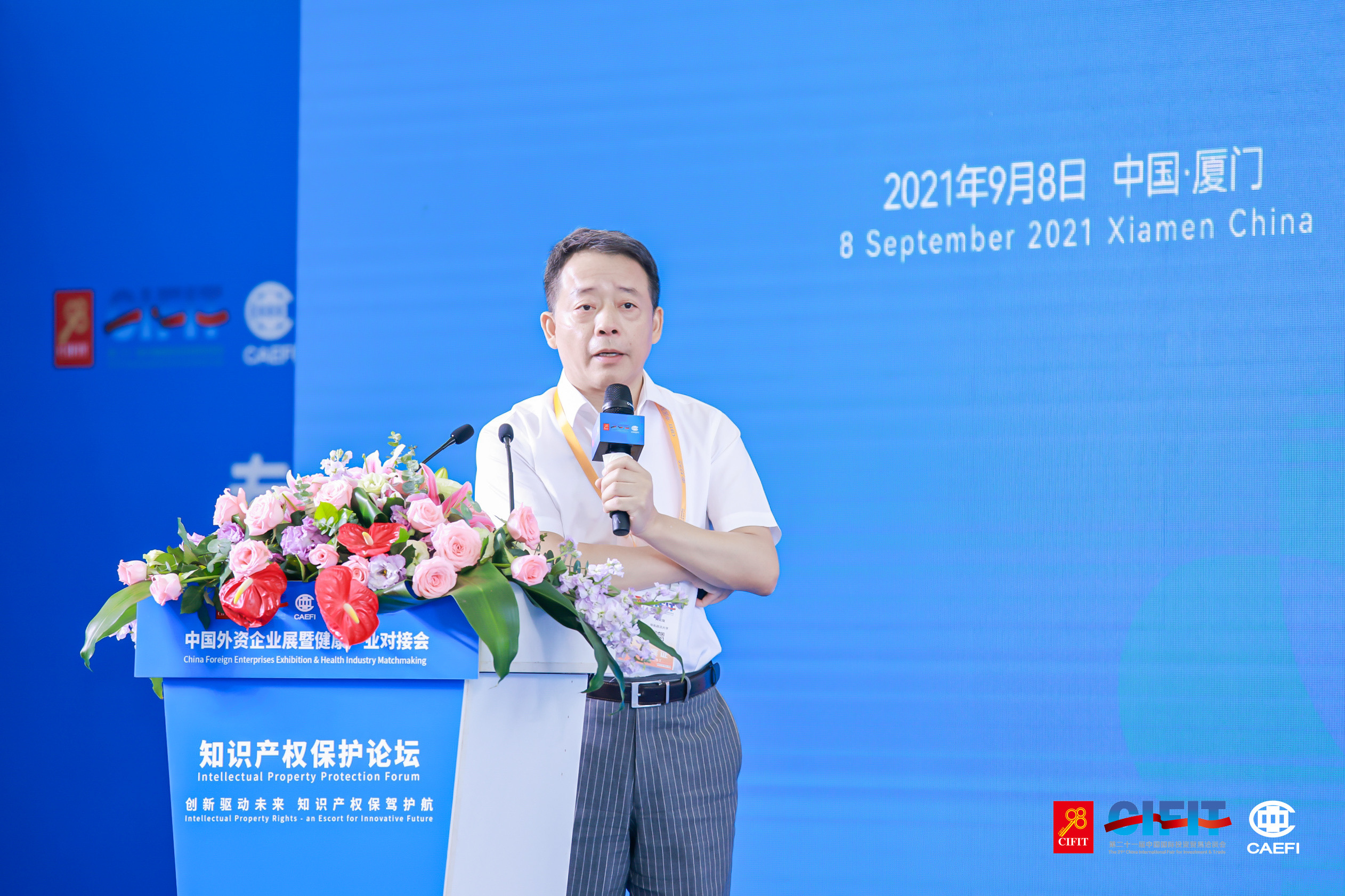 Huang Wushuang
According to Lu Zhengmin, Deputy Director General of NLGO and Deputy Director-General of Department of Law Enforcement and Inspection of SAMR, high-quality development of the health industry could never be achieved without the support of scientific and technological innovation. China must continue to strengthen the protection of IPR and crack down on infringement and counterfeiting. While implementing the decision and deployment by the CPC Central Committee and the State Council, NLGO had focused on its responsibilities, people's livelihood, outstanding issues and critical timing. It had increased overall coordination, strengthened the supervision over administrative law enforcement, enhanced judicial protection, promoted publicity and education, cracked down on illegal and criminal behavior concerning infringement and counterfeit medicines, medical equipments, supplies, health care products. The market environment of the health industry had been continuously purified, and the legitimate rights and interests of consumers and right holders had been effectively safeguarded.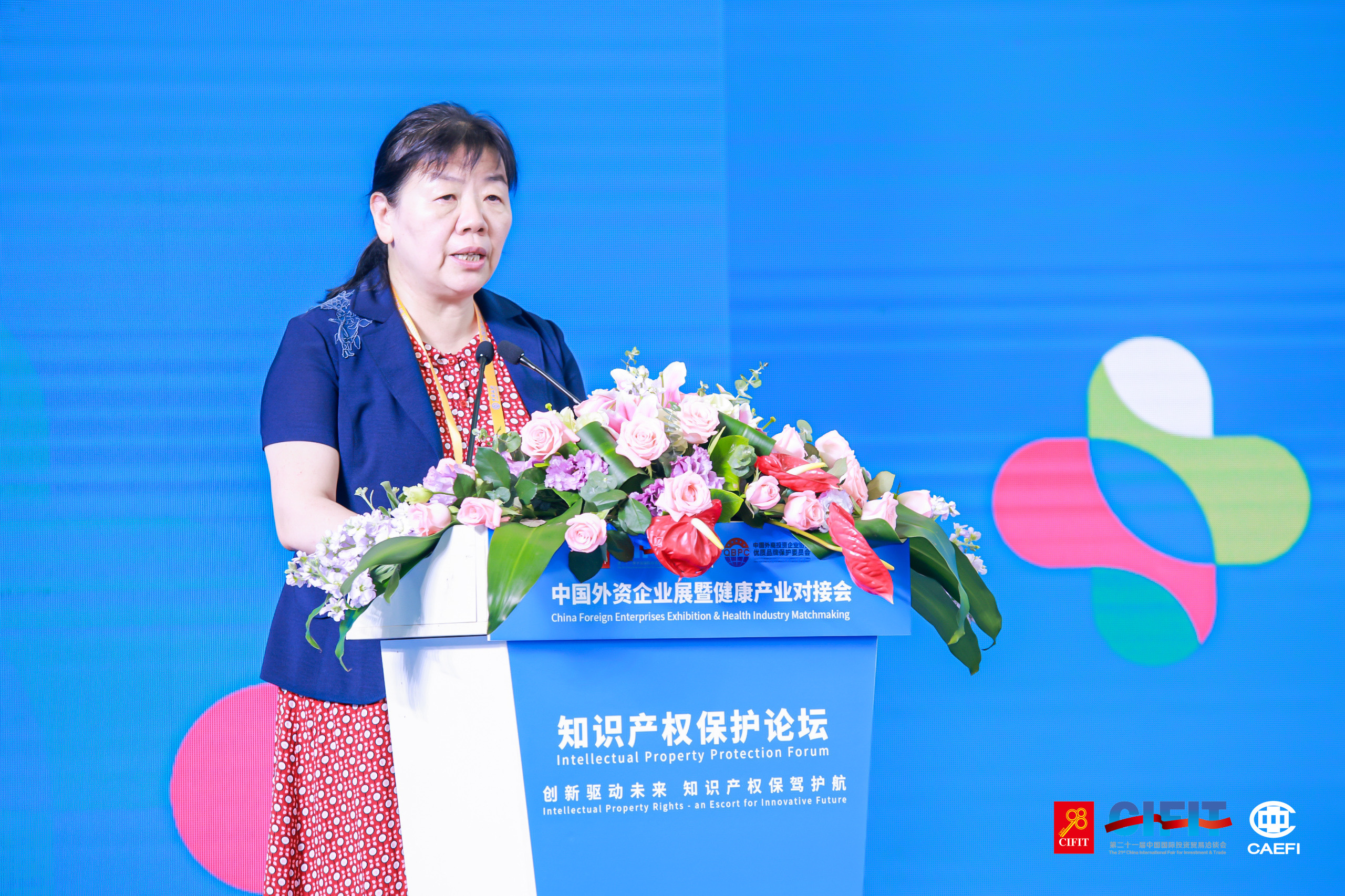 Lu Zhengmin
Michael Ding, QBPC Chair and ABB Vice President of IP, shared his understanding and views on the topic of Multi-party Governance to Jointly Create a Good Business Environment for Intellectual Property. He elaborated on the roles and responsibilities of all parties in co-governance from the perspectives of IPR holders, industry associations and relevant government departments. He expected that QBPC could continue to play the role of a bridge and work with other stakeholders to further optimize the IPR business environment under the principle of "Global Breadth, China Depth".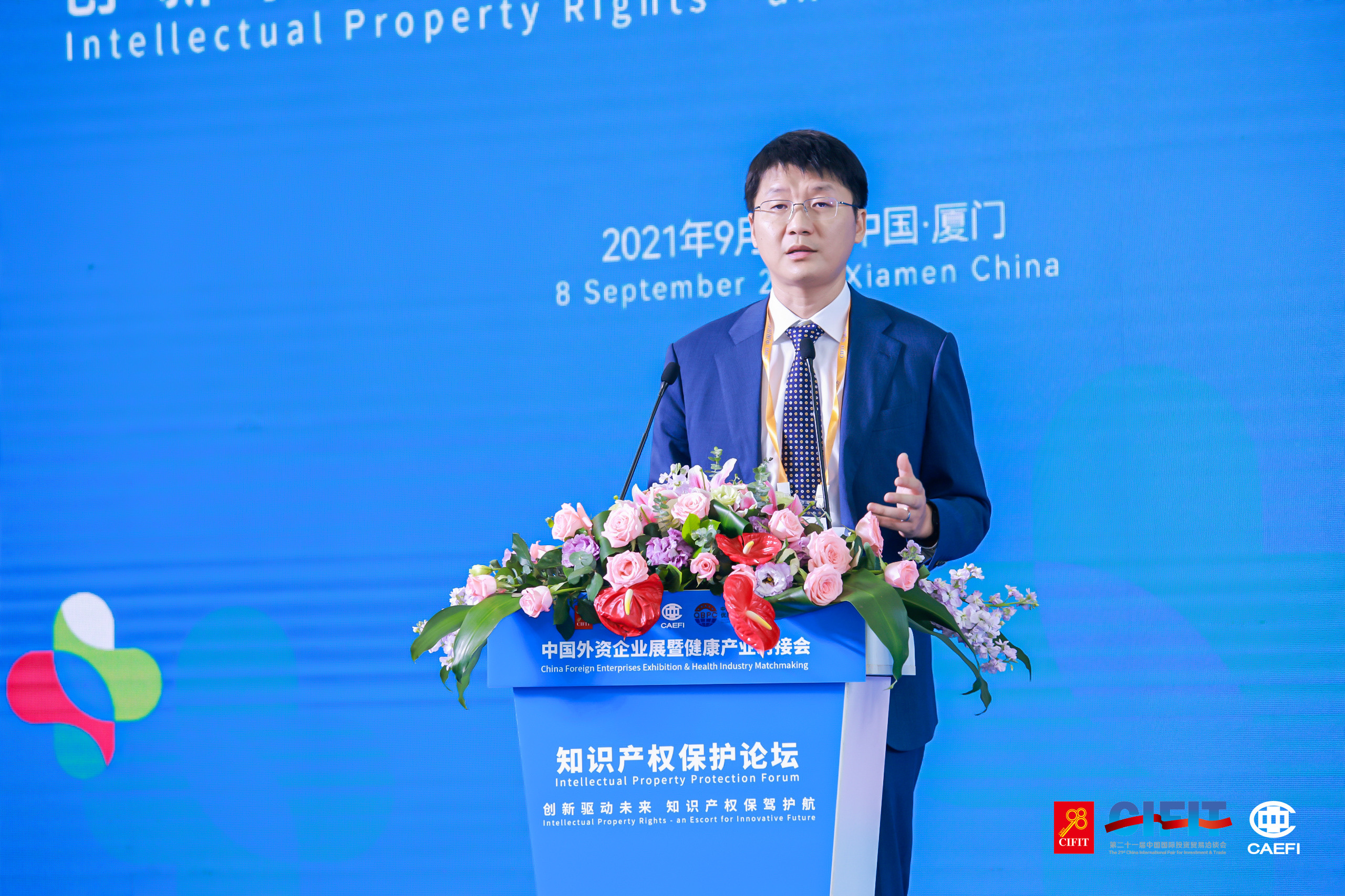 Michael Ding
Yan Zhihuang, Director-General of Fujian Intellectual Property Administration, made a detailed introduction to IPR work in Fujian Province. He said that continuously improving the level of IPR protection was a focus of Fujian in its bid to build a new development pattern, and Fujian would strive to create a first-class innovation and business environment through carrying out the implementation plan of building a strong IPR province under the outline of building a strong IPR country.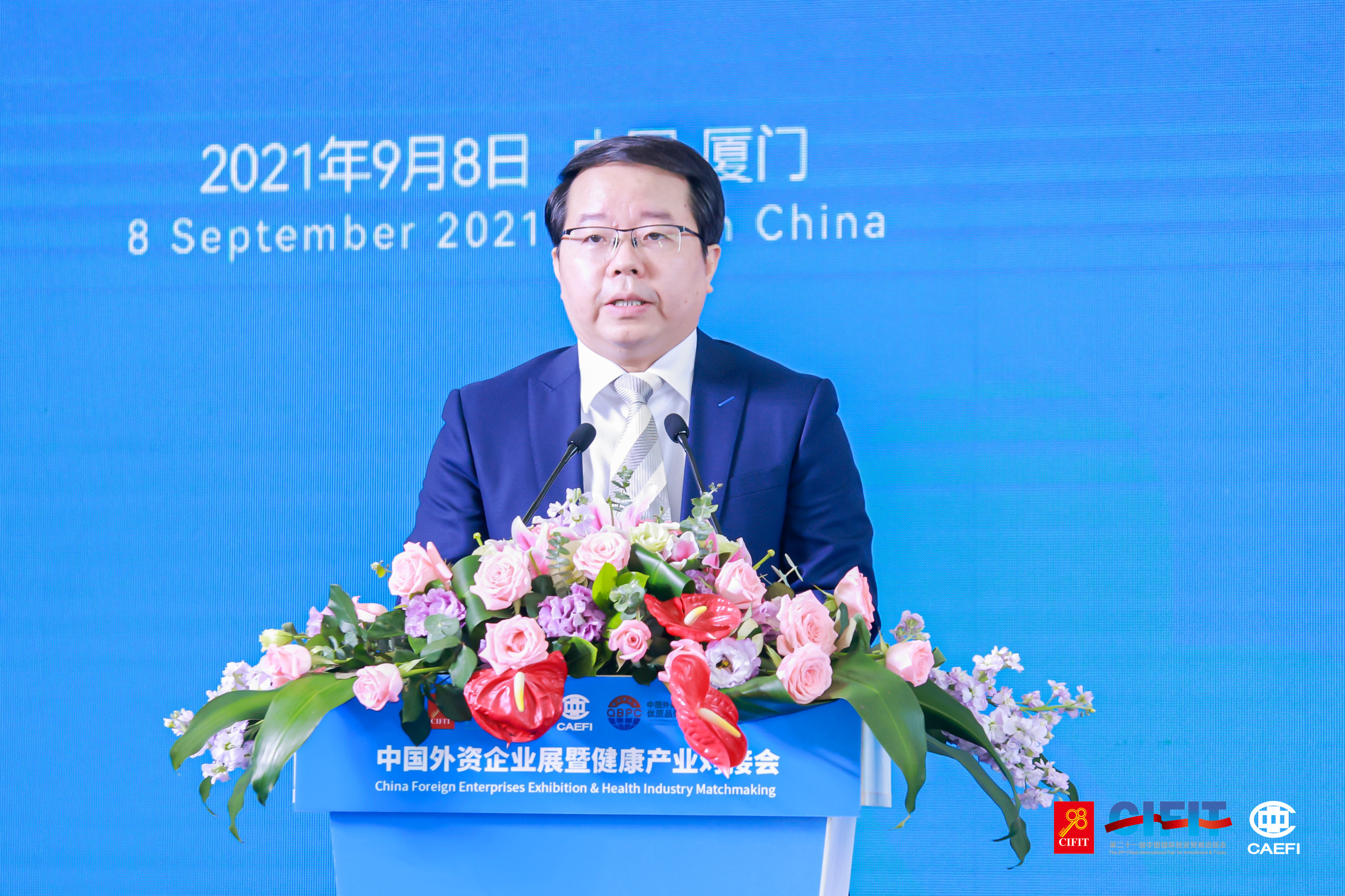 Yan Zhihuang
There were more than 100 participants, including officials, scholars and industry representatives from NLGO, SAMR, the People's Procuratorate of Fujian Province, Fujian Provincial Higher People's Court, Fujian Provincial Public Security Department, Fujian Provincial Commerce Department, Fujian Provincial Administration for Market Regulation, Fujian Provincial Intellectual Property Administration, Fuzhou Customs, the People's Procuratorate of Xiamen City, Xiamen Municipal Administration for Market Regulation, Xiamen Municipal Bureau of Commerce, Xiamen Customs, Xiamen Association of Enterprises with Foreign Investment, IP & Competition Law Academy of East China University of Political Science and Law, and foreign-funded enterprises.