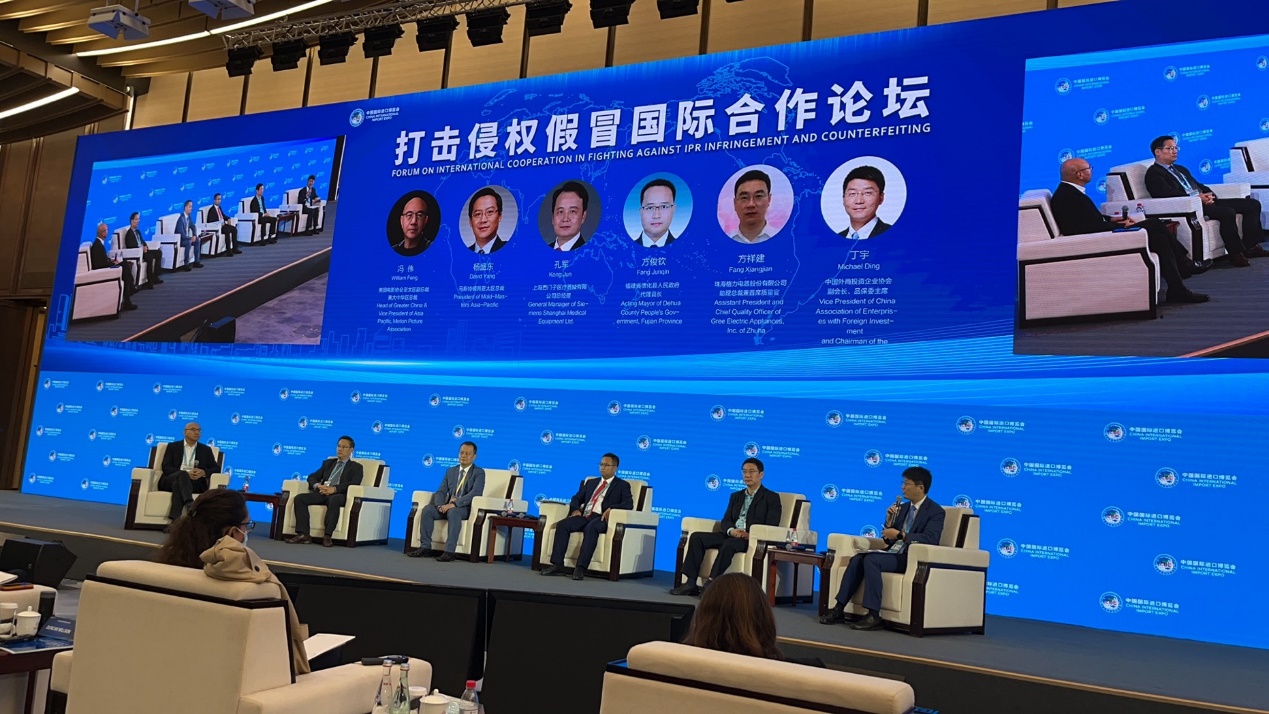 On November 6, the 4th China International Import Expo Forum on International Cooperation in Fighting against IPR Infringement and Counterfeiting (CIIE) was held at the Shanghai National Exhibition and Convention Center. The forum was organized by the World Intellectual Property Organization (WIPO), the State Administration of Market Supervision and Administration of China (SAMR) and the Office of the National Leading Group on Combating Intellectual Property Infringement and the Production and Sale of Counterfeit and Inferior Goods. As one of the organizers, the Quality Brands Protection Committee of China Association of Enterprises with Foreign Investment (QBPC) engaged in the preparatory work of the event.
Chen Tong, vice mayor of Shanghai Municipal People's Government, and Tian Shihong, Vice Minister of SAMR, delivered opening speeches respectively. Liu Hua, Director of WIPO China Office, attended the forum and read out a congratulatory message from Deputy Director-General Wang Binying. Representatives from the EU Delegation to China, the International Trademark Association (INTA), Leading Group on the Fight against IPR Infringement and Counterfeiting, the Ministry of Agriculture and Rural Affairs, the Ministry of Commerce, the General Administration of Customs (GACC), the Supreme People's Procuratorate, local authorities of market supervision and administration, relevant trade associations and enterprises attended the event.
As an important live event of CIIE, the forum has been successfully held three times since 2018 and become an important platform for exchanges and interaction between stakeholders engaging in the fight against counterfeiting and infringement. With the theme of Innovation, Cooperation and Win-Win, the Forum focused on three topics, namely increasing protection, deepening international cooperation and promoting social co-governance. Einenne Sanz de Acedo, CEO of INTA, and Monique Cheng Joe, Senior Vice President, NBCUniversal, a member of QBPC, commented on the first and second topics via video respectively. Monique highlighted the highly positive correlation between the IP protection system and the overall competitiveness ranking of a country. She also shared the development of NBCUniversal's business and her experience of working with relevant parties in IP protection in China.
Michael Ding, QBPC Chair, presided over the forum's social co-governance panel. The guest speakers included William Feng, Head of Greater China & Vice President of Asia Pacific, Motion Picture Association, David Yang, President of Mold-Masters Asia-Pacific, Kong Jun, General Manager Siemens Shanghai Medical Equipment Ltd., Fang Junqin, Acting Head of Dehua County Government of Fujian Province, and Fang Jianxiang, Assistant President and Chief Quality Officer of GREE Electric Appliances, Inc. of Zhuhai.
In order to deal with the huge threat posed by online piracy to the copyright creative industry, the State Copyright Administration (NCAC) has organized annual special "sword net" campaign since 2005. William Feng briefed on how the Motion Picture Association of America had supported the above efforts, for example, actively assisting law enforcement authorities in handling various administrative and criminal cases involving infringement of film and television works; according to the new trends and types of online piracy at home and abroad, bringing to the attention of NCAC the key concerns of rights holders of film and television works; promoting the legalization of major domestic video websites, and gradually guiding relevant network operators to enhance copyright protection awareness and measures; through communication with relevant departments and related platforms, promoting the governance and compliance of large network platforms such as e-commerce and the netdisk companies.
As a representative of a high-tech company, David Yang shared Mold-Masters' experience in the protection of trade secrets. In response to a copycat case in the market, the company initiated civil litigation as well as requesting administrative law enforcement, and has won the first instance in civil litigation. He said that the protection of trade secrets was a matter of survival for enterprises. He looked forward to further improvement of relevant laws and regulations, more vigorous law enforcement, and more efforts in promoting trade secret protection among the public, which could escort the technology innovation of enterprises, and gradually achieve the long-term goal of "social co-governance" in trade secrets protection.
In his statement, Dr. Kong Jun said that Siemens Medical had a number of R&D manufacturing centers in China. It had continuously expanded its local innovation and R&D capabilities to achieve the transformation from Chinese manufacturing to Chinese creation, so that intellectual property rights had become the "just need" for its innovation development. He called on all parties concerned to work together to build an excellent business environment, continuously stimulate innovation vitality, build a high level of open innovation platform, create a new ecology of intellectual property rights and promote high-quality development. To enable the innovation to fly as a bird, we should arm it with the wings of intellectual property.
With unremitting efforts, Dehua County has been successfully selected as a model county by the national intellectual property strong county project and won the China Copyright Gold Award "Protection Award". Its ceramic copyright protection experience was introduced to the world by NCAC and WIPO as a demo of copyright protection best practice. At present, the county has established an intellectual property protection system of "five-in-one, multi-party co-governance" with the participation by enterprises, associations, government agencies, judicial organs and the public. It has set a good example in the protection of intellectual property rights at the county level. Fang Junqin summed up the "Dehua experience" into five points: special support to stimulate the internal motivation of enterprises, industry self-descipline through fulfilling the role of associations, enhancing the service capability of government through new technology, more deterrence through law enforcement with joint efforts, and rasing the awareness of society through publicity.
Fang Xiangjian described GREE's unremitting efforts in the field of intellectual property rights, including investing in independent innovation and leveraging the legal means to actively safeguard its intellectual property rights. In his view, the soundness and perfection of policies and regulations was conducive to the fundamental restraint of intellectual property infringement, the protection of innovative achievements at the same time could encourage more enterprises, institutions and individuals to join the ranks of independent innovation, which was also conducive to the construction of a fair and just competition order. All employees, enterprises and all sectors of society had a responsibility to consciously maintain the soil of innovation.
Michael Ding summarized and commented on the speeches of the guests one by one. He looked forward to the cooperation between QBPC and relevant parties which would contribute to the realization of social co-governance of intellectual property protection.