By Zhang Mingjie
On November 4-5, the Quality Brands Protection Committee of China Association of Enterprises with Foreign Investment (QBPC) successfully held the 3rd Dialogue on Administrative Protection of IPR of Foreign Invested Enterprises in Shanghai. The theme was "Embracing the Innovation, Fostering a New Development Paradigm". Over 200 participants included officials of administrative authorities from more than twenty provinces, municipalities and autonomous regions, and representatives of QBPC member companies, foreign missions, and trade associations.
Tao Yang
QBPC Government Affairs and Public Policy Committee (GAPPC) Chair Tao Yang hosted the Workshop. QBPC Chair Michael Ding delivered an opening speech, Vice Chair of China Association of Enterprises with Foreign Investment (CAEFI) Cao Hongying, Presiding Judge of the 3rd Civil Tribunal of the Supreme People's Court of China Qin Yuanming, Deputy Director of Department of IP Protection of China of National Intellectual Property Administration (CNIPA) Xiao Niezun, Senior Consultant of WIPO Office in China Lyu Guoqiang, Trade / Intellectual Property Officer of the EU Delegation to China Helene JURAMY and Intellectual Property Counsellor of U.S. Embassy Beijing Duncan Willson made keynote speeches.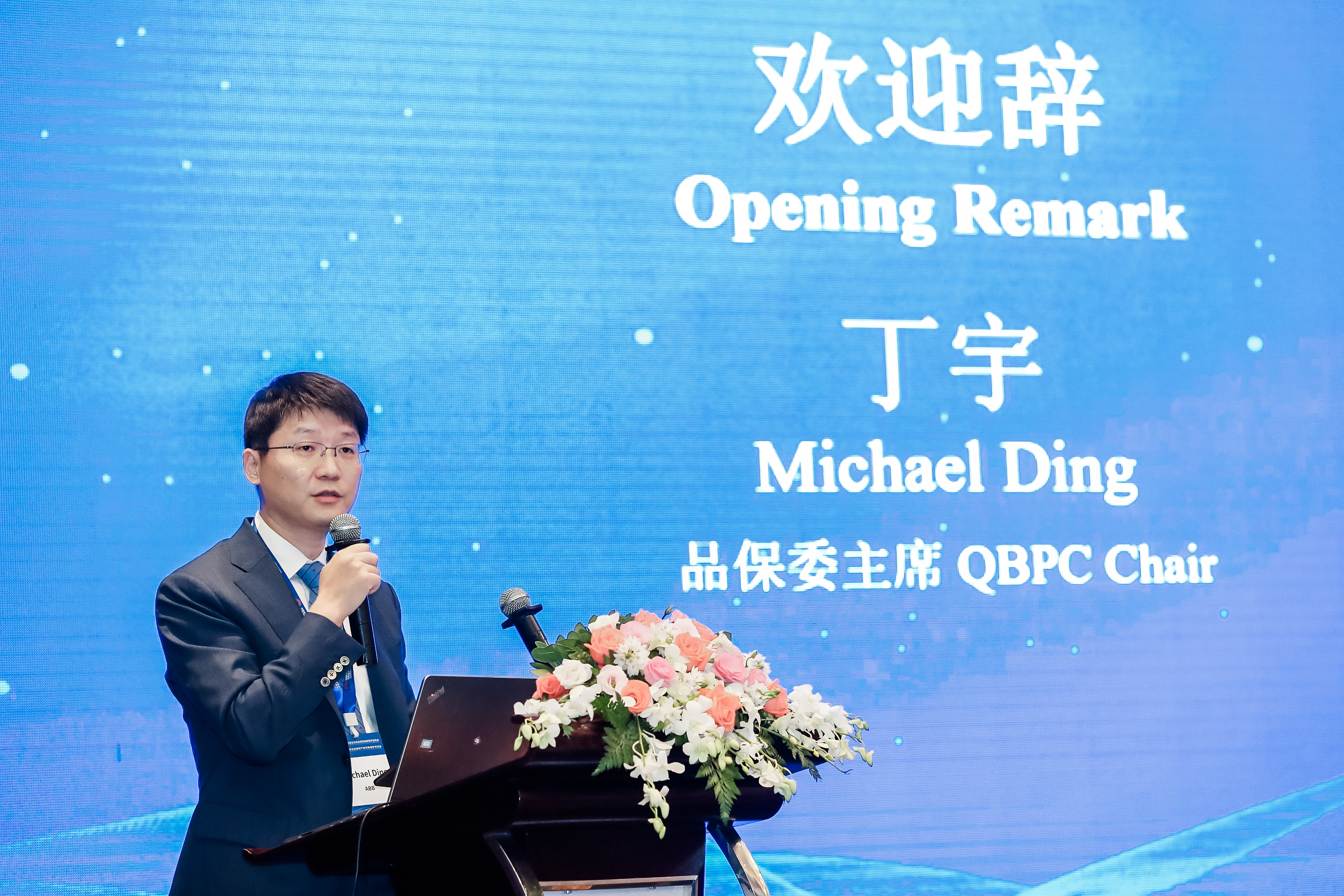 Michael Ding
After introducing the development, positioning and focus of QBPC, Michael Ding said that the cause of IPR had been booming in the past year, with the release of several new laws and regulations related to intellectual property rights and the special campaigns launched by judicial and administrative authorities. During the process, QBPC maintained close contact with the central and local law enforcement and judicial departments, continuously followed up the changes of laws, regulations and policies, and actively made comments and suggestions. This conference was to further discuss topics related to the administrative protection of intellectual property rights. He hoped that the conference could help build up better cooperation between government and enterprises, and the two sides would work together to further optimize the IPR business environment in China.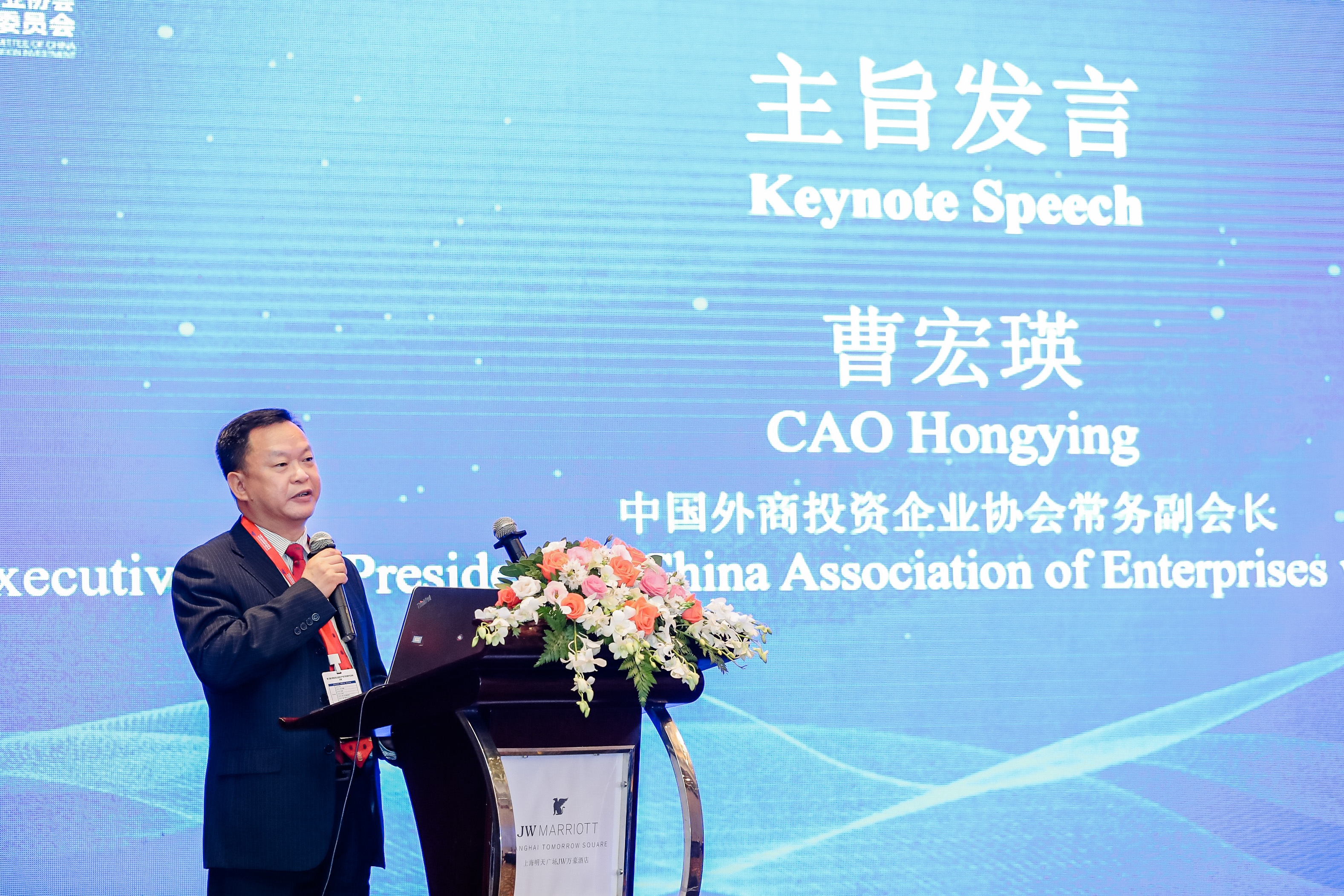 Cao Hongying
Cao Hongying said, foreign capital was an important part of China's economy. In its Development Plan for the Utilization of Foreign Capital during the 14th Five-year Plan Period, the Ministry of Commerce clarified the guidelines, goals and key tasks for the utilization of foreign capital, and the National Work Plan for the Administrative Protection of Intellectual Property in 2021 issued by the China National Intellectual Property Administration also highlighted that the implementation and achievements would become KPIs of relevant local authorities in their annual performance assessment. Administrative enforcement was a protection system with Chinese characteristics, as well as an indispensable part of the intellectual property protection system. Due to its relatively simple procedures and quick responses, it had become an important approach to protecting the legitimate rights and interests of right holders and consumers. Cao spoke highly of the annual dialogue, and hoped that it would become another brand activity of QBPC to provide a platform for the government and enterprises to jointly discuss the hot and difficult issues on the administrative protection of intellectual property, which would be of great significance for the implementation of intellectual property protection in the future.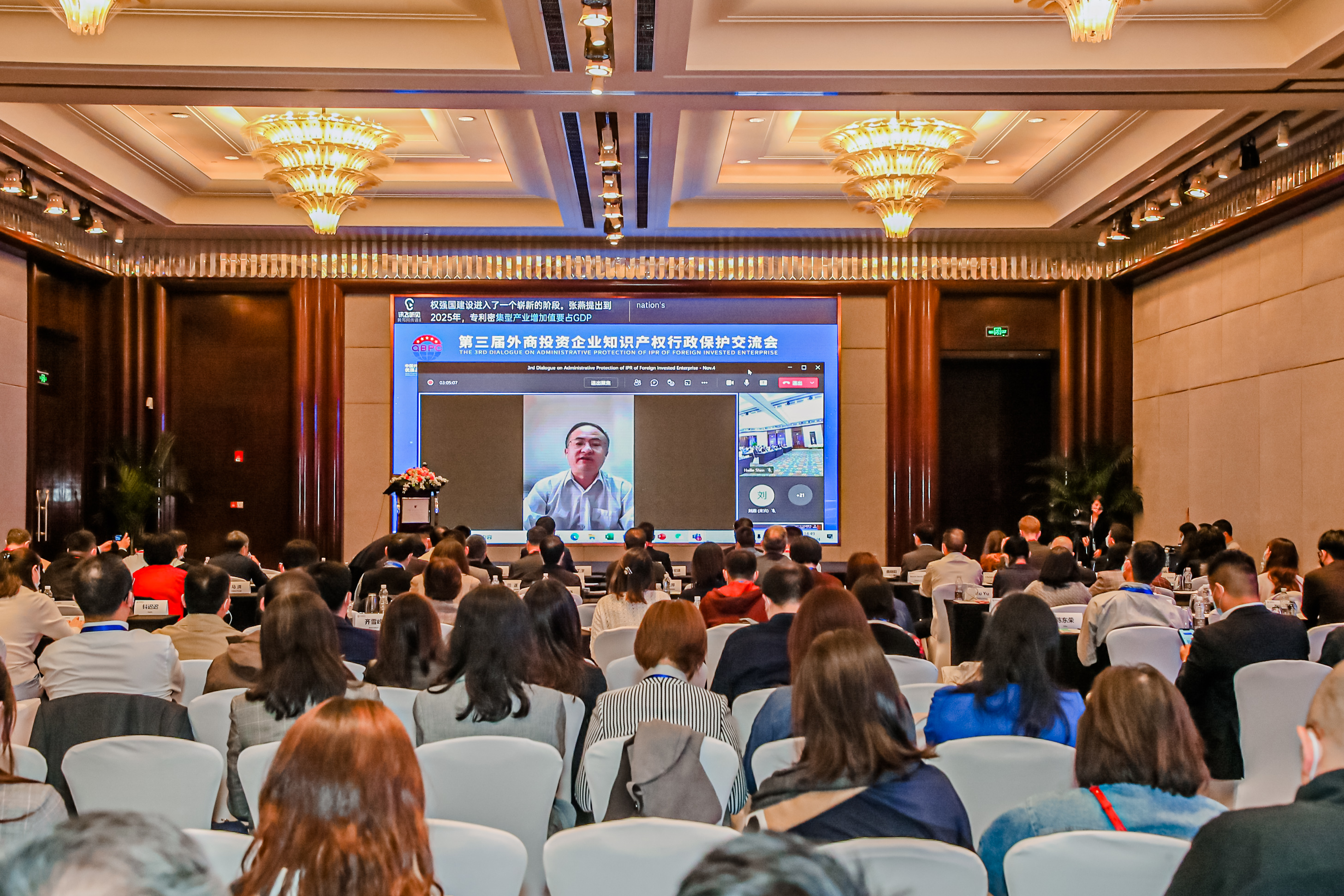 Qin Yuanming
Qin Yuanming explained the 20 policies and measures proposed in the Opinions of the Supreme People's Court on Strengthening the Trial of Intellectual Property in the New Era and Providing Strong Judicial Services and Guarantee for the Construction of a Powerful Intellectual Property Country. Looking to the future, the intellectual property trial work of the people's court would focuse on deepening the judicial reform in the field of intellectual property, improve the trial capacity of intellectual property, focuse on promoting all-round protection of intellectual property rights, strengthen international judicial exchanges and cooperation on intellectual property rights and increase research on new situations and problems.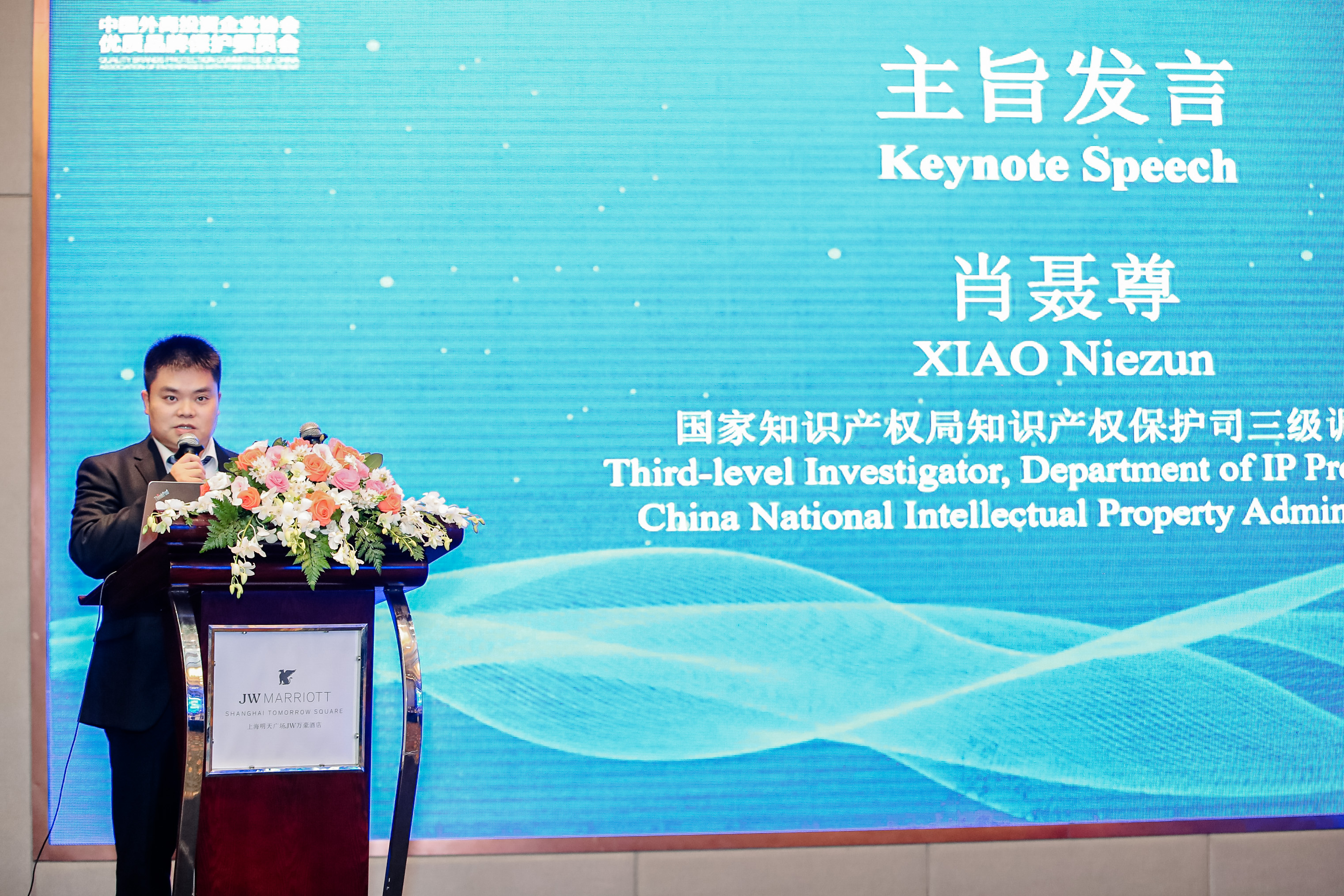 Xiao Niezun
Xiao Niezun briefed on the latest progress of the trademark administrative protection work of CNIPA which included strengthening the top-level structure design and effectively enhancing the systematic trademark protection; perfecting legal norms and improving the legal measures on trademark protection; cracking down on malicious trademark registration and regulating the order of trademark work; improving law enforcement standards and strengthening guidance over trademark law enforcement; enhancing the protection of well-known trademarks in the whole chain through multiple means. He concluded that CNIPA would continue to fortify IPR protection and optimize the environment for innovation and business.
Lyu Guoqiang
Lyu Guoqiang briefed on the trend of international intellectual property rights, especially the WIPO medium-term strategic plan, so that innovation and creation anywhere could be supported by IP and everyone could benefit from IP; building an inclusive global IP ecosystem that accommodates the interests of all parties; to ensure that IP was a tool to create jobs, attract investment, drive business growth, and become a tool for a sustainable future for the economy and society.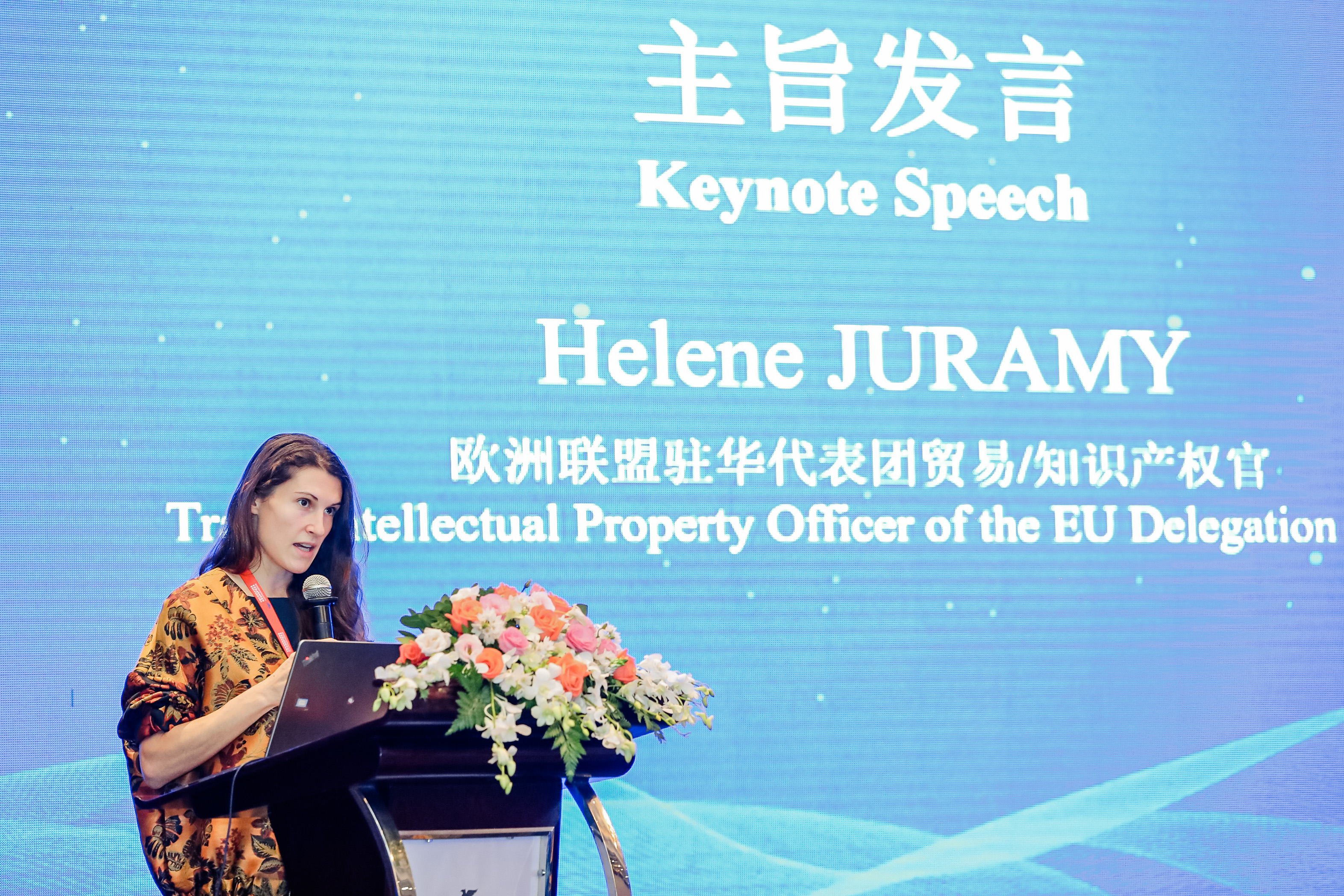 Helene JURAMY
Helene JURAMY stressed that intellectual property is valuable to our societies and for innovation. Owners of intellectual property rights need fair and effective enforcement of the intellectual property regulations. Cooperation between the European Union and China on intellectual property, including with the IP Key project, has a long history and is important in view of the challenges faced. As the COVID-19 pandemic accelerated the shift to digital, online anti-counterfeiting efforts are a priority, which needed cooperation between private and public stakeholders, as well as raising awareness of consumers.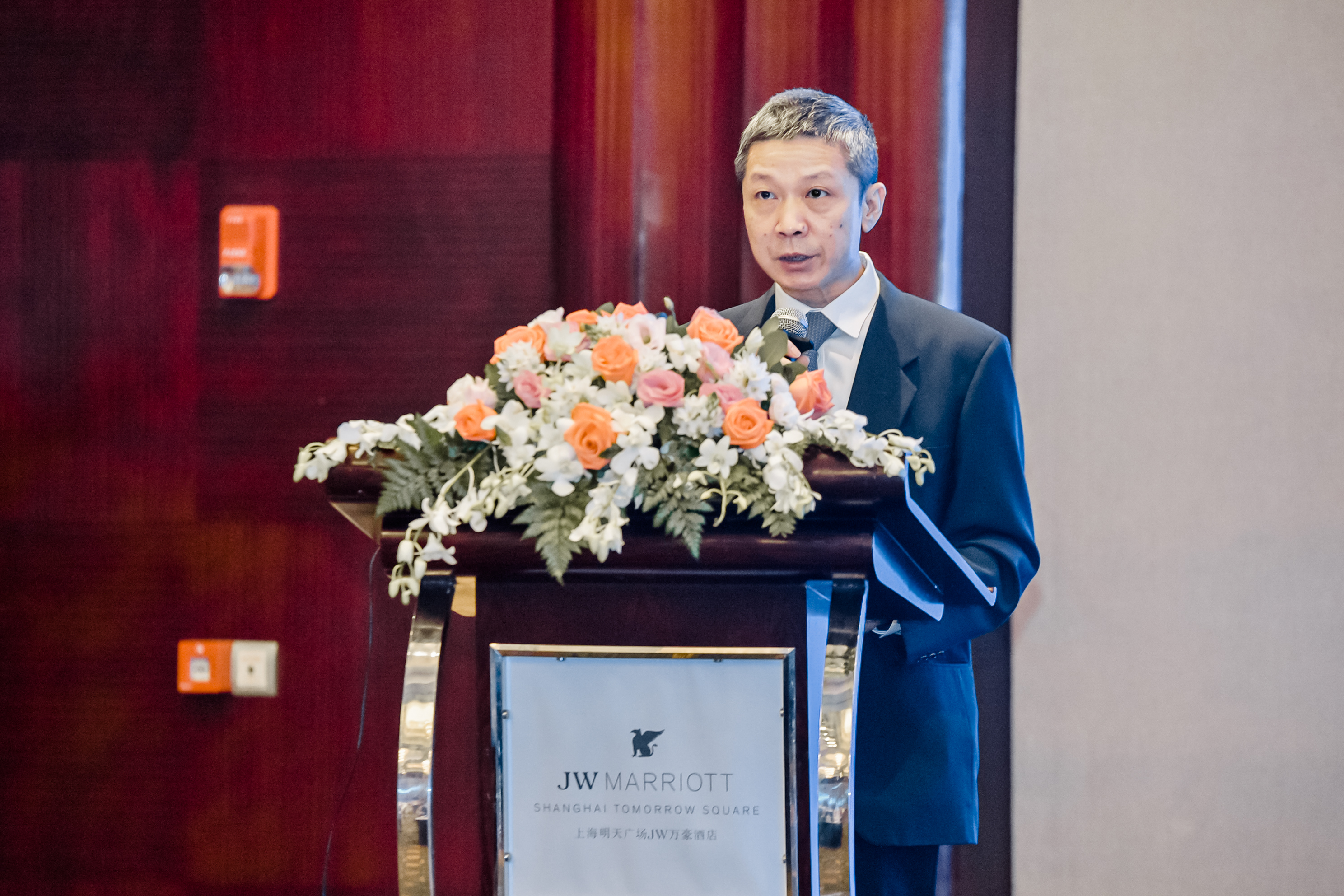 Yan Jun
Yan Jun, Deputy Head of the Office of the National Leading Group on the Fight against IPR Infringement and Counterfeiting (NLGO), and the Director General of Enforcement and Supervision Bureau of the State Administration for Market Regulation (SAMR), made a keynote speech on Day 2, introducing the efforts by the Chinese government and relevant departments in promoting a series of reforms, making a series of major decisions, gradually improving the intellectual property legal system, and continuously strengthening the overall coordination of intellectual property protection. He stressed that China had always attached great importance to the legitimate rights and interests of foreign-funded enterprises, continued to optimize the business environment, responded to concerns and demands in a timely manner, and vigorously remedied violations. Facing the challenge of the new situation, the Chinese government would continue to strengthen overall coordination, build the whole chain management mode, continuously step up crackdown efforts, contain rampant infringing and counterfeiting conduct, continuously explore new approaches for treatment, promote smart regulation and credit regulation, continue to deepen international cooperation and jointly combat cross-border and domestic illegal acts and crimes of infringement and counterfeit, strive to build a first-class environment for business and innovation.
Duncan Willson
Duncan Willson, Intellectual Property Counsellor of U.S. Embassy, also made a speech.
Since 2019, QBPC has annually held Dialogue on Administrative Protection of IPR of Foreign Invested Enterprise in a bid to establish a long-term communication mechanism between right holders and administrative law enforcement authorities, which could help both sides understand each other's work and needs, solve practical problems, and promote intellectual property protection to a higher level. This year the event was composed of four panels. Please find below detailed report:
Panel 1: Explore Diversified Resolution Mechanism for Intellectual Property Disputes
Leon Lyu, Vice Chair of QBPC Government Affairs and Public Policy Committee, presided over the topic. He said, with the development of China's economy, the country had eyed an increasing number of IP cases. Under such circumstance, it was far from enough for the right holder to choose judicial protection. Meanwhile administrative protection had always been the main approach to intellectual property protection. In addition, it was also necessary to actively explore and develop various ways to solve disputes over intellectual property through multiple channels such as mediation, arbitration, etc.
Wu Huarong, Deputy Director of the Division of Intellectual Property Protection of the Ningbo Municipal Administration for Market Regulation, noted that the system of administrative enforcement of law for patents refered to the administrative authority's ruling on disputes over patent infringement, which did not exist in most countries. Instead they solved the disputes through judicial channels. Therefore, this system featured distinctive Chinese characteristics, opening up a new path for the right holders to safeguard their rights in China. However, compared with judicial decisions, administrative decisions could not include a judgment on compensation. As a result, the administrative authorities must quickly handle disputes over patent infringement and strengthen investigation and evidence collection, so as to bring the superiority of this system into full play.
From the perspective of anti-unfair competition, Liu Qing, leader of the Comprehensive Administrative Law Enforcement Corps of the Chongqing Municipal Administration for Market Regulation, expounded the trademark and tradename infringement issues involved in the anti-unfair competition law through case study related to disputes over intellectual property. In his view, the current IP infringement cases were more complex and diverse since they might simultaneously involve trademarks, copyrights, patents and other fields. Fortunately the application of the anti-unfair competition law could broaden the scope of intellectual property protection. The right holders could take advantage of the quick decisions from the administrative enforcement of law and then file a civil lawsuit with the people's court, so as to better safeguard their own intellectual property rights.
Zhong Xia, Deputy Director of the Department of Intellectual Property Protection of the Comprehensive Law Enforcement Team of the Wenzhou Municipal Administration for Market Regulation, shared the innovative measures to solve intellectual property cases in Wenzhou, that was, through administrative decisions plus arbitration over intellectual property, to identify infringement of the rights and make a judgment on the amount of infringement. The highlight of the model was to combine the strength of both administrative protection and judicial protection, which not only reflected the advantages of administrative protection in efficiency, low cost and fast speed, quick remedy for the relevant parties and preventing infringing products from entering the market, but also reflected the stability of judicial protection and its advantage of paying more attention to civil compensation for the right holders. After the infringement ceases, the right holders could ask for the corresponding economic compensation through judicial protection. It could also avoid the waste of resources in administrative enforcement of law and judicial adjudication in case that the parties refused to accept the ruling and filed another administrative lawsuit.
As a judge personally involved in the adjudication of IP cases, Ma Hong, Vice President of the Ningbo Intellectual Property Court, put forward his own ideas on the diversified protection system of intellectual property. In his opinion, the diversified dispute resolution system of intellectual property was actually a comprehensive intellectual property protection system dominated by judicial protection and supplemented by administrative protection, including arbitration and mediation. He mentioned that Ningbo, as a world-class port, had conducted a lot of exploration and practice on IP cases in recent years, including setting up a third-party platform for the comprehensive application and protection of intellectual property in Ningbo to deepen the multi-sectoral coordination mechanism, and build a diversified dispute resolution mechanism; establishing the intellectual property civil dispute appeal center to cooperate with the people's mediation committee in charge of disputes over IP and relevant institutions to help the court resolve disputes over IP in advance.
During the exchange, Lu Chuan, a prosecutor of the Shanghai Municipal People's Procuratorate, presented the concept of "integration of the three functions", an important pilot task initiated by the Supreme People's Procuratorate at the end of 2020, in which the civil, administrative and criminal procuratorial functions towards intellectual property were performed by one department in a unified way, and even special institutions might be created to undertake the procuratorial protection of intellectual property in a unified way. In order to achieve this goal, the Shanghai People's Procuratorate had carried out work in four aspects: First, recruit talents with the background of intellectual property discipline and experience in handling civil, administrative and criminal cases to build a professional talent team; second, continuously explore criminal clues in civil and administrative proceedings of intellectual property, and work with the court and the public security department to strengthen the in-depth discovery and sharing of case leads; third, strengthen communication between the procuratorial organ and the enterprise right holder, and clarifying the right holder's rights and obligations for substantive participation in the intellectual property criminal proceedings; fourth, strive for breakthroughs in civil, administrative supervision and even public interest litigation of intellectual property. The procuratorate should not only pay attention to the criminal judicial protection of intellectual property, but also give full play to the procuratorial supervision function, enabling the procuratorial organ to get involved all over the ecological protection systems of IP.
The last speaker of the panel, Frank Liu, Intellectual Property Director of Emerson China and Vice Chair of Patent and Innovation Committee of QBPC, made remarks from the perspective of the right holder. According to him, intellectual property infringement was divided into three stages, namely, sheer counterfeiting and selling fake goods, trademark infringement, and patent infringement (plagiarizing technology). If only civil litigation was applied, it would take more time and lead to great loss of the right holder. One of the greatest characteristics of administrative enforcement lay in the relatively fast process. Coupled with the means of judicial protection such as applying for pre-litigation and in-litigation injunction or pre-litigation property preservation, it could play a greater role in the infringer's intentional delay in litigation.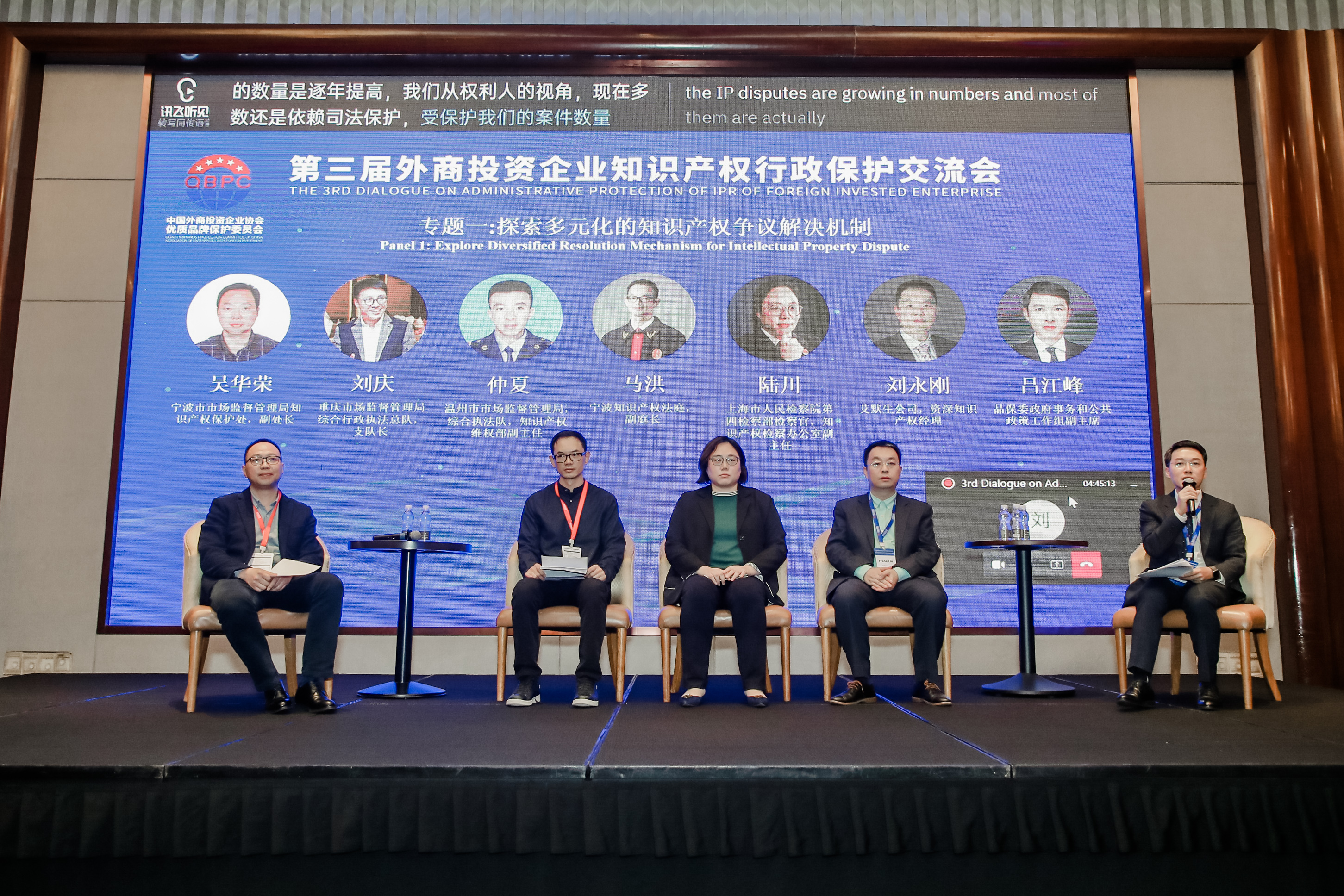 Panel 2: Administrative and judicial IPR protection in Free Trade Zone
Joann Chen, Vice Chair of QBPC Government Affairs and Public Policy Committee, presided over the discussion on Panel 2. The administrative protection of intellectual property in the Free Trade Zone (FTZ) has always been a new topic. People from all walks of life have some misunderstandings about the FTZ, and they even confused the concepts of the FTA, bonded area and Special Customs Supervision Area (SCSA). Zhu Qiuyuan, a professor of Shanghai Customs College, Shen Yong, Deputy Director of Shanghai Customs, Wu Zhiyong, President of the Intellectual Property Tribunal of the Shanghai Pudong New Area People's Court, Wang Jian, Level-I Principal Staff Member of the Protection Division of the Shanghai Pudong New Area Intellectual Property Office, and Alan Liu, QBPC Customs Committee Chair and Director of Brand Protection of Johnson & Johnson (Asia Pacific Region), made speeches respectively, discussing the differences between the business activities of production, processing, sales and re-export in the FTZ and the domestic market business activities from the perspective of the court, government departments, scholars and right holders.
In Zhu Qiuyuan's view, the FTZ and the SCSA differed in the scope of applicable policies and status. First, in terms of policy implementation, the pilot free trade zone is independently established by China, and a series of policies on investment, logistics, finance and foreign exchange are also implemented in addition to the implementation of policies on customs supervision, and customs inspection and quarantine. Among the SCSAs, the most typical one is the comprehensive bonded area in which the customs preferential system and some customs facilitation policies are generally implemented. One of its main functions is free tax and trade facilitation. Second, in terms of the geographical scope, the SCSA refers to the sites and locations where the Customs conducts supervision and management of inbound and outbound means of transport, goods and articles as stipulated in Article 100 of the Customs Law, including the SCSAs, bonded supervision sites, customs supervision workplaces, duty-free shops as well as other sites and locations under customs supervision. Tangible goods are the target subject to supervision and law enforcement based on the Customs Lawand customs policies. Some of the areas subject to special customs supervision are in the pilot free trade zone while others are outside the zone. This is the difference in geographical scope between the two. However, in any case, for the SCSA, even located in the FTZ, due to its special nature, it is still an area subject to customs supervision. The legal base for customs enforcement is the Customs Law and laws on entry & exit inspection and quarantine, and the main basis for customs protection of intellectual property is the Regulations on Customs Protection of Intellectual Property and its measures for implementation.
Shen Yong, Deputy Director of Shanghai Customs, explained the implementation of new policies regarding customs protection of intellectual property and customs related supervision services as well as the upgrading of some functions in the FTZ based on the actual development conditions of China (Shanghai) Pilot Free Trade Zone. Enterprises can mainly enjoy tax preferences in special supervision areas of the customs, i.e. bonded or tax reduction or exemption preference. Therefore the main difference between the SCSA and non-SCSA lies in different tax policies and some trade supervision requirements. Other customs supervisory requirements are basically the same. The customs is entitled to implement supervision over imported and exported goods in both "first tier" and "second tier" cities, which certainly includes the implementation of customs protection of intellectual property. Apparently, after the institutional reform in 2018, customs declaration and customs inspection have been profoundly integrated and the customs has further undertaken the responsibilities for entry-exit inspection and quarantine. As a result, for goods involving the security of the state such as nuclear, biological, chemical and explosive substances, they can be admitted to the port area only after going through relevant inspection at the first line of the port so far. In recent years, the customs has implemented many innovative supervisory moves and services in the SCSA. For example, enterprises used to open a customs electronic accounting book in order to conduct bonded warehousing in areas under special supervision in the past. Nowadays, innovative supervision policies are implemented in the Yangshan Special Comprehensive Bonded Area, including release of entry and exit at the first line, single-side declaration of import and export at the second line, no customs accounting book required in the zone, and free turnover in the area. The implementation of the aforesaid moves has objectively further promoted the quick development of new types of business of foreign trade including cross-border e-commerce. On the other hand, infringing behaviors could happen easily and frequently due to features like invisibility and fragmentation of Internet transactions as well as low duplication cost of digital products. The customs, as administrative law enforcement department, has also noticed the aforesaid infringement risk, and shall actively lead the standardized, healthy development of new fields and new types of business by actively strengthening the customs protection of intellectual property.
Alan Liu, QBPC Customs Committee Chair and Director of Brand Protection of Johnson & Johnson (Asia Pacific Region), raised a big headache of right holders. It is clearly defined in the Trademark Law concerning whether OEM itself constitutes a trademark infringement. However, the behavior hasn't been clearly defined in the international community, and thus right holders will be confused in two respects. One is about constitutive requirements of infringement (is it required to consider fault when judging trademark infringement?), while the other is about the role of possibility of confusing in the use of trademark in the judgment. As for understanding and application of the Trademark Law, when international treaties and judicial interpretation of the supreme court are not available for reference, and the semantic interpretation cannot address the issue of application of law, how can right holders handle it? What considerations are given to purpose and starting point when it comes to the territorial restriction of trademark law? What is the difference between the dispute of defining the trademark of products processed in the FTZ as infringement and the usual trademark infringement? What aspects are worth noticing for right holders in the judicial practices?
As for the questions raised by Alan Liu, Wu Zhiyong, President of the Intellectual Property Court of the Shanghai Pudong New Area People's Court, pointed out that the purpose of current OEM was for export. However, if viewed from the development of the whole industry, these products were likely to flow back to China. Wu Zhiyong further indicated that policy consideration should be given from the perspective of the development of the whole industry due to the increasing internationalization of the market, and equal protection should be given to both domestic and overseas subjects of rights pursuant to same rules so as to avoid offering special protection for a certain form of trade, which was an inevitable trend. Also, it benefited the unification of China's legal system and guided domestic and overseas businesses to respect and value China's statutory provisions so as to promote fair competition among equal market participants and create a stable legal environment. At the end of his speech, Wu Zhiyong offered two suggestions on compliance, i.e. strict review and standardization of contract text.
Wang Jian, Level-I Principal Staff Member of the Protection Division of the Shanghai Pudong New Area Intellectual Property Office, believed that the FTA was mainly about innovation of concept, system and model, and shared his thoughts and experience in the work, including concentration on the flexibility and innovation of relevant laws and regulations, continuous exploration in the field of intellectual property protection (e.g. forensics rules and rules on punitive forces), and pursuit for balance between intellectual property protection and industrial development.
Guest speakers also discussed the issues concerning implementation of digital economy of the FTZ as well as import and export of cross-border e-commerce.
Panel 3: Protect Fair Competition, Optimize Business Environment
Sarah Zhao, IP counsel of Underwriters Laboratories Inc. Great China, hosted the discussion of the third topic. Ding Qing, chief of the Law Enforcement and Supervision Section of Shanghai Fengxian District Administration for Market Regulation, shared his ideas about administrative protection of business secrets. In his opinion, administrative protection boasted high efficiency, convenience, capacity for quick evidence fixing and timely termination of infringing behavior compared with civil lawsuit. However, Ding said administrative protection also faced some difficulties: 1. Difficulty in discovering; 2. Difficulty in recognition; 3. Difficulty in law enforcement. For the aforesaid difficulties, the Shanghai Municipal Administration for Market Regulation had begun supporting some key enterprises to continuously improve the work of the business secret protection, including visiting enterprises and study tours, enhance communication, strengthening collaboration and creating deterrence through strict law enforcement. Ding Qing also offered countermeasures and suggestions on the intellectual property protection work: Firstly, strengthen business training, especially establishing a professional law-enforcing talent base. Compared with supervision and law enforcement of other type of cases, the handling of trade secret cases requires higher-quality law-enforcing officers. Therefore, the establishment of such a talent base can give play to their professional expertise and avoid the failure of evidence obtaining due to problems regarding professional techniques. Meanwhile, the level of law-enforcing equipment should be further improved, and advanced professional equipment and approaches including electronic forensics and electronic evidence analysis should be utilized to fix evidence, so as to lay a solid foundation for the treatment and handling of whole cases. The active participation of third-party agencies is also very important; secondly, strengthen communication and collaboration to improve effectiveness of case handling. It contains two aspects. One is to strengthen the collaboration with public security department, which mainly includes information sharing and law enforcement collaboration as well as collecting the leads relying on information system of the public security department, and the other is to obtain more evidence by utilizing the investigative means of public security department; thirdly, strengthen system construction and explore a long-term managerial mechanism.
Lin Yu, Deputy Director of the Intellectual Property Protection Division of the Guangzhou Municipal Administration for Market Regulation, explained the manifestations of conflict between trademark right and shop name right through specific cases. Lin Yu mentioned specifically that the key to choosing the application of trademark right or unfair competition law was to figure out the cores of these two laws when conflict arised between two rights mentioned above. He also introduced the remedy approaches and practices when trademark right was infringed, including administrative penalty, administrative ruling, administrative mediation, administrative guidance and other ways to seek administrative protection, or reporting and complaining of such administrative punishments. Furthermore, Lin Yu also presented the general principles and relevant practices adopted by lexicon of prohibited and restricted words of Guangzhou to cope with the conflict between trademark right and shop name right, as well as the issue of admission of well-known trademarks in the aforesaid lexicon.
Chen Yang, Chief of the Law Enforcement and Supervision Third Section of the Shantou Municipal Administration for Market Regulation, shared his practice and experience of implementation of trademark brand strategy to boost the regional economic department from a macro perspective. Chen Yang said that the city of Shantou owned 286,867 registered trademarks, including 377 international marks based on Madrid Protocol (ranking the third place among all prefecture-level cities in the province), 38 collective marks (ranking the second place in the province) and 30 well-known trademarks (ranking the fourth place among all prefecture-level cities in the province). These achievements could not be obtained without the continual optimization of business environment and in-depth implementation of trademark brand strategy in Shantou. To be specific, three aspects were focused on: First, strengthen supporting and comprehensively promote the cultivation and development of trademarks and brands; second, deepen protection and severely fight various kinds of trademark infringing and counterfeiting behaviors; third, strengthen publicity and actively create a good atmosphere for administrative protection of trademarks.
Dou Libo, Deputy Director of the Second Procuratorate Department of the People's Procuratorate of Tongzhou District of Beijing, gave a speech with the theme of "Practical Exploration of all-round Judicial Protection of Intellectual Property". The Procuratorate of Tongzhou District constructed a "1+N" full system of judicial protection of intellectual property and obtained good effect based on the practices of handling of criminal cases regarding intellectual property. "1" referred to the focus on the quality and effectiveness of case handling, while "N" meant to the leverage of all available resources by centering on criminal cases to promote a diversified protection system as a whole and so as to form a big protection pattern of intellectual property. It was divided into five aspects of work: Firstly, cooperate with experts and think tanks for professional support for cracking down on intellectual property crimes and perfecting of right holders' protection system; secondly, cooperate with right holders: Actively provide right holders with all-around services when emphasizing on the full guarantee of rights, strengthen the interaction with right holders, initiatively and timely inform the right holders of litigation rights and obligations, make innovations in right notifying cloud model and explore one-stop notification mechanism; thirdly, cooperate with administrative authorities for law enforcement, pay attention to two-way formation link, and bridge administrative law enforcement and criminal law enforcement; fourth, cooperate with social service providers, start with e-commerce logistics enterprises, and concentrate on the fake commodity production and selling terminal chain; fifth, establish a list of requirements for intellectual property protection for professional, refined, featured and new enterprises and support the innovative development of the industry precisely.
Wang Miao, Director of Brand Protection of MCM in Asia-Pacific, introduced the legal means and approaches used by brand owners when fighting infringement and counterfeit, and specifically emphasized the necessity to cooperate with public security authority in terms of cracking down on the sources of fake goods. By sharing relevant cases, Wang Miao showed the vigorous publicity efforts in intellectual property protection by Guangdong Province, and pointed out that the local awareness of law enforcement and cooperation was continuously strengthened, and therefore the fake commodity production and sale gangs were quickly removed and brand interests were safeguarded.
Moreover, guests discussed issues including guidelines by administrative organizations on law enforcement in establishing enterprises' protection measures for their business secrets, application of specific law for the conflict between trademark right and shop name right, specific requirements and active effect of catalogue of key trademarks under protection, and claim for civil compensation during the review and prosecution of IP criminal cases.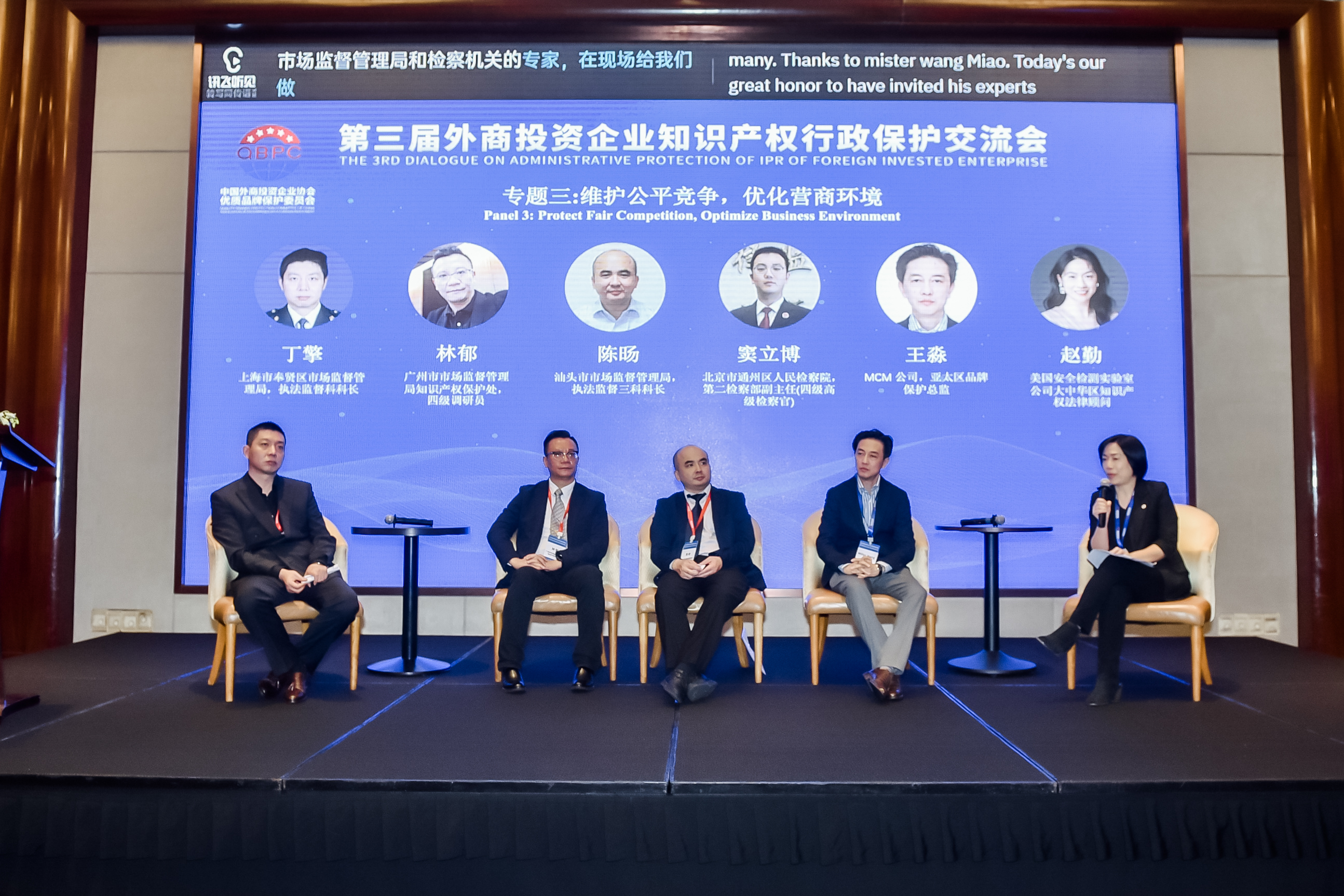 Panel 4: Challenges and Opportunities in IPR Protection Growing with the E-commerce Innovation
Currently, a new round of scientific and technical innovation and industry transformation is restructuring the global innovation territory and economic structure. Therefore, the reform of intellectual property system must timely respond to the challenges from new technologies, new economy and new situation. The final panel is about the challenges and opportunities of intellectual property protection in the field of e-commerce under the new situation. Cecilia Dou, QBPC Internet Sale of Infringing Goods and Internet Copyright Protection Task Force Coordinator, presided over the discussion of this topic.
Fu Wei, Senior Brand Protection Manager of Richemont Greater China, had abundant experience in coping with online and offline fake commodities as well as extremely complicated new intellectual property cases. Fu introduced two models of online selling of fake commodities: KOL (Key Opinion Leader) in social platforms or Internet celebrities who sold goods with live videos. After enough fans were attracted, they would be led to other platforms for order placing, which could avoid the enforcement while managing the orders in a centralized way; the other model was to attract fans and also sell fake commodities by showing off prosperity on social media. Facing this situation, both criminal punishment and economic punishment should be applied in order to effectively crack down on these fake commodity sellers.
Wu Xiaofeng, a procurator in the Sixth Procuratorate Department of the Third Branch of the Shanghai People's Procuratorate, shared intellectual property cases he had attended. With the quick development of e-commerce, online infringement has presented a diversified trend and crimes are transforming towards a clustered, professional and cross-border direction. The cases handled by this Procuratorate presented the following characteristics: First, conglomeration: The infringing companies owned mature industrial and commercial registration, complete organization structure and an integrated fake commodity production and sale chain; second, relatively high revenue involved in the cases; third, occurrence of criminal case with the highest penal sum so far. The procuratorate encountered some difficulties when handling such cases. For example, the network transmission was circulating, quick and concealed, and infringers had very high awareness of counter-investigation. The fixing of some electronic evidence was also a challenge. In consideration of such problems, this Procuratorate continuously deepened the cooperation with PSBs and adopted new forensic approaches in an innovative manner.
Wang Xuming, Director of Intellectual Property Research Center and Senior Intellectual Property Protection Director of Alibaba, shared his thinking about intellectual property protection of the Internet. In the previous stage of the Internet development, Alibaba, as an Internet e-commerce platform, advocated the cooperation of stakeholds in the circle of IP, and especially came up with some effective solutions and created some best practices against selling of fake products in the Internet especially through cooperation with right holders and law-enforcing authorities. In the current stage of the Internet development, the whole industry is facing more complicated problems. It is worth careful thinking and practicing as how to quickly and efficiently predict and discover risks in advance through technological innovation approaches of the Internet and how to further cooperate with right holders, law-enforcing authorities, administrative authorities and judicial authorities to realize shared governance.
Wang Qian, a professor of East China University of Political Science and Law, analyzed the attitude of the public towards the treatment of intellectual property crimes. Whose interests were infringed when consumers knowingly bought fake commodities? It was out of question that the interests of brand owners were infringed, which had a great negative impact on the brand value, image and market. Besides, when handling IP crimes, could we copy mitigation and probation practices from some Western countries? China had limited types of intellectual property infringements that could be convicted with relatively high threshold. How could we prevent and contain such infringements if we didn't severely crack down on them? The voices from society meant that we should raise the public awareness of harms of IP crimes, lead public opinion towards a good direction, and meanwhile continuously severely crack down on intellectual property infringements and crimes so as to safeguard innovation and honest operation of enterprises.
In the Q&A session, the audience discussed with guests the issues such as fixing of legal evidence for online fake commodity selling, criminal penalty and civil compensation.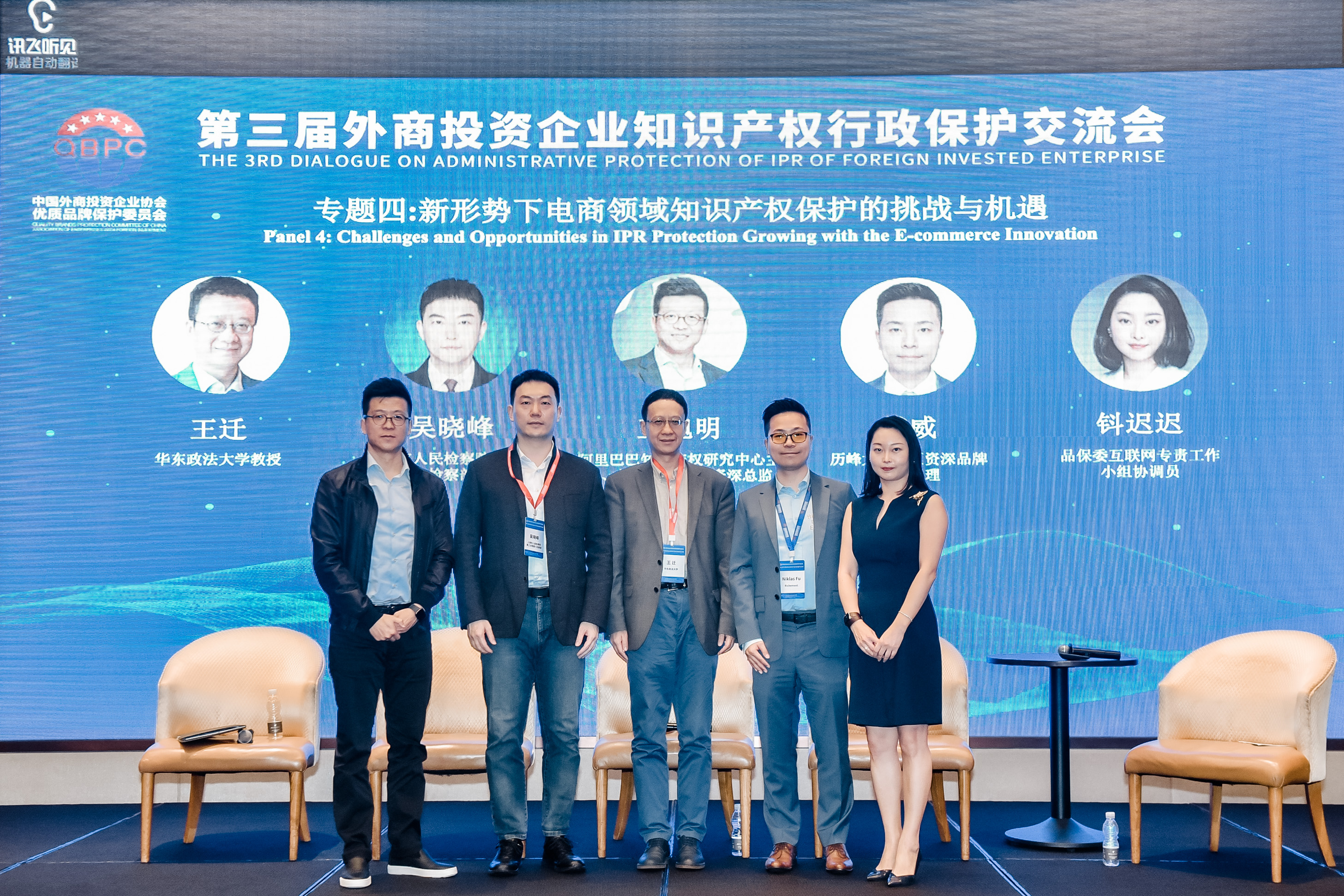 Product authentication and identification booths were set up in the corridor. The member companies of QBPC, including Johnson & Johnson, Microsoft, Nike, Victoria's Secret, Procter & Gamble, Amorepacific, Bayer, Beiersdorf, CommScope, Eaton, GSK, Huawei, Lacoste, Jaegermeister, Mattel, MCM, TWE, ZF, explained the identification of counterfeits to the guests and introduced the latest infringement and counterfeiting trends. The scientific and technological progress and digital popularization have brought about new business opportunities, but also enabled infringers to adopt new approaches. With the improvement of manufacturing processes, perfection and concealment of production chains, the degree of simulation of fake products becomes higher, thus making it increasingly difficult to identify. It creates more stress and challenges to the already overworking administrative organizations for law enforcement. The close cooperation and communication between right holders and enforcement authorities can better timely share the information, realize full chain precious attack and create a new situation of cooperation and shared governance.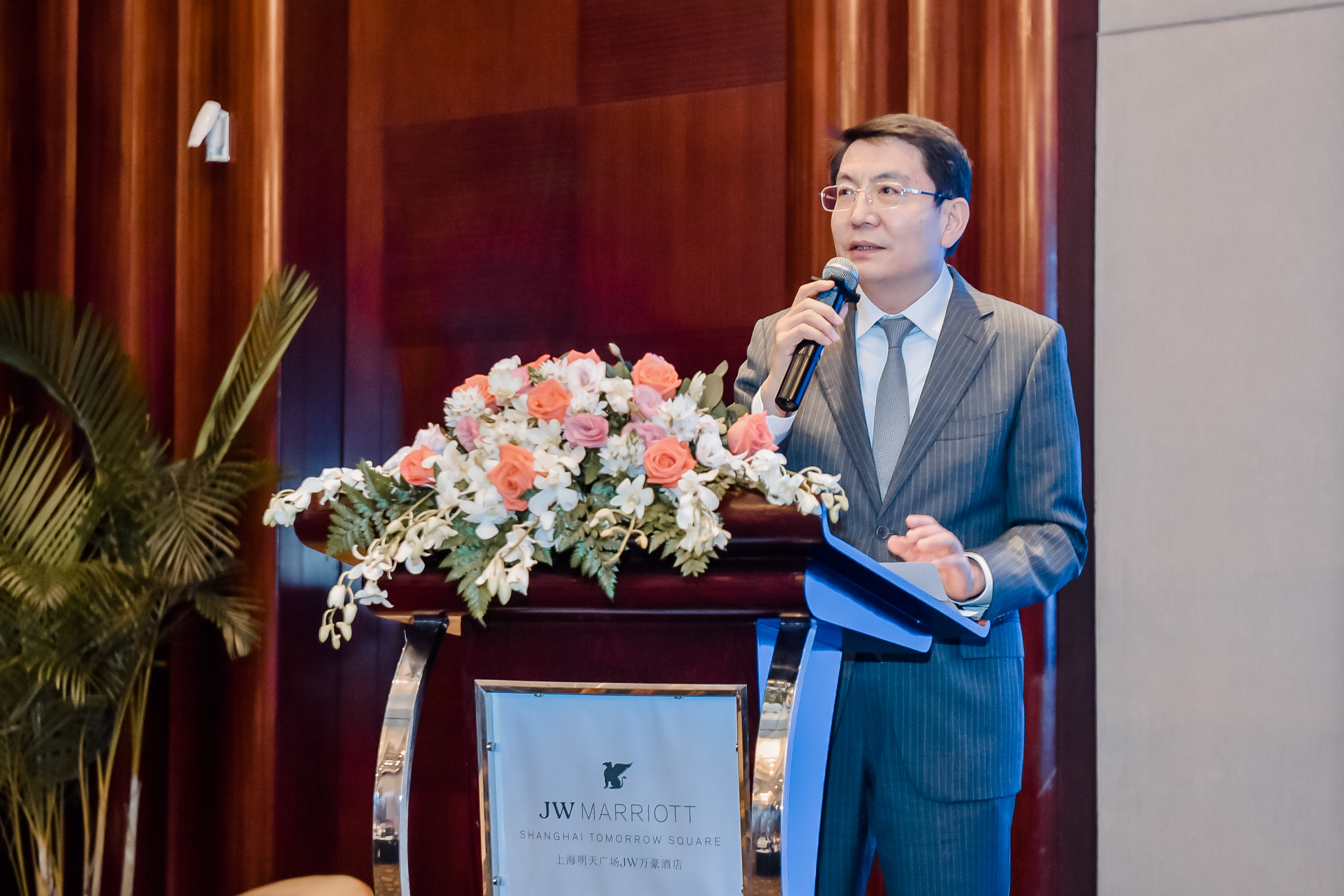 Qu Xiaoyang
In the end, Qu Xiaoyang, QBPC Vice Chair, made a summary and thus concluded the event. However, we shall not get relaxed and shall make further efforts in exploring the way to improve China's intellectual property protection system, and promoting innovation and industry integration to drive economic development. The QBPC will spare no effort to carry out the achievements of this dialogue, construct a long-acting communication mechanism, seek for a new model of co-governance and sharing, and continuously dedicate to the in-depth cooperation between right holders and law enforcement authorities.