On October 27, Agricultural Industry Working Group (IWG) of the Quality Brand Protection Committee of the China Association of Enterprises with Foreign Investment (QBPC) successfully held Workshop of Brand Protection and Improving Anti-counterfeiting Capability at Syngenta's Shanghai office. An officer of the Food, Drug and Environment Investigation Detachment of Shanghai Municipal Public Security Bureau was invited to the meeting and exchanged with 10 representatives online and onsite from BASF, Corteva, China Seed International, FMC and Syngenta. Agriculture IWG coordinator Sam Fan hosted the meeting.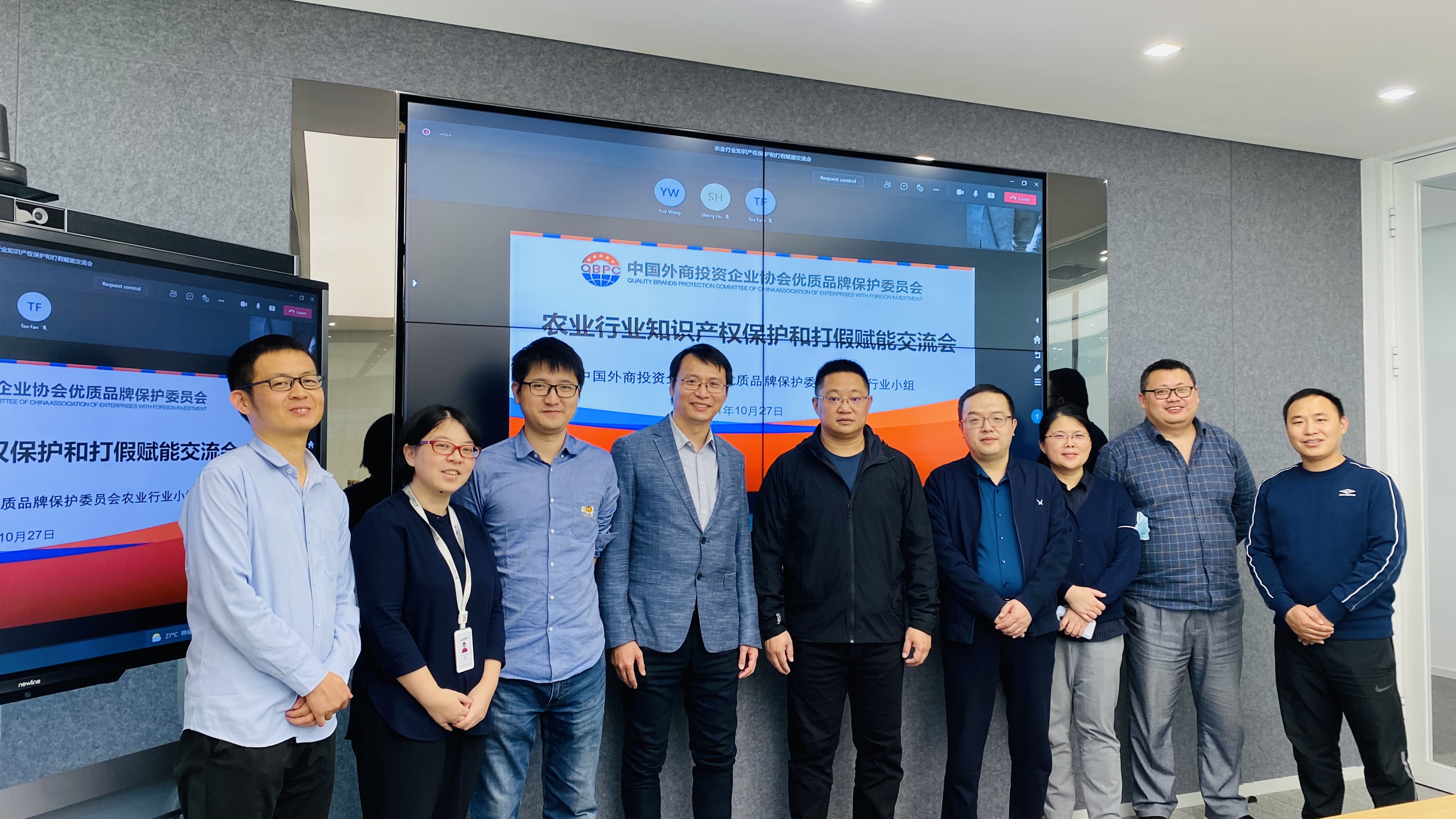 Member companies' representatives briefly introduced their companies' brands, products and intellectual property features. And they also shared the insights on the current situation, trends and anti-counterfeiting capability improvement in the agricultural industry, as well as the difficult issues and solutions of criminal cases involving agricultural counterfeiting, taking into account successful cases and experiences.
Claudine Bao of Syngenta shared the experience and successful cases of combating online counterfeiting from the aspects of online sales channels, case characteristics, law enforcement actions, etc. Xiong Yang of Corteva analyzed and discussed the difficulties of agricultural criminal cases from the perspective of enterprises. Sam Fan of FMC introduced the industrial chain and the current status, characteristics and trends of counterfeiting and sales based on relevant cases in the pesticide industry. He also expounded several thoughts on the challenges in combating counterfeit. Zhu Wenjun, a representative of Sinofaith joined him to share the successful experience of pesticide rights protection cases.
The officer of the Food Crime Investigation Detachment listened to the presentations and sharing by IWG members and expressed the expectation to have more exchanges with the Agriculture IWG and its members on the characteristics and trends of the industrial development to strengthen the promotion of cooperation model in cases. Agriculture IWG coordinator Sam Fan also expressed that he would continue to enhance communication and sharing among Agriculture IWG members, fully reflecting the industrial characteristics and the trends and difficulties in IPR protection to law enforcement agencies. QBPC Agricultural IWG would strengthen the sharing of case leads and enhance cooperation between police and enterprises to further promote IPR protection in the agricultural industry.