Twenty Years of Dedication, QBPC Set Sail for the Future
On November 3, the QBPC's Annual Meeting in Celebration of its 20th Anniversary and the 2019-2020 Top Ten Cases in IP Protection and Model Cases Bridging Administrative and Judicial IP Enforcement Announcement was held in Beijing. Some 300 participants, including officials and representatives from China Association of Enterprises with Foreign Investment ("CAEFI"), judicial and enforcement agencies involving in the selected cases, foreign missions in China, trade associations, international organizations, well-known IP think tanks, state-owned and private companies, media and QBPC members, presented at the event. Executive Vice Chair of CAEFI Cao Hongying, Intellectual Property Attaché of U.S. Embassy Duncan Willson, EUIPO IP Key China Project Leader Benoit Missone, Intellectual Property Counselor of French Embassy Julie Herve, Intellectual Property Attaché of British Embassy Conor Murray, First Secretary of Canadian Embassy Brian Shipley addressed the audience during the Announcement. Director of World Intellectual Property Organization Office in China Liu Hua, Vice President of Global Brand Protection and Vice President of Global Security of Johnson & Johnson Richard Kaeser and Edward Dickson, and President of Lotto Sport Italia SpA Andrea Tomat sent their best wishes for QBPC through video messages. QBPC Chair Michael Ding delivered the welcome speech, unveiling the event.
"QBPC is dedicated to advocating IPR protection, and is committed to connecting members and IPR related government departments and judicial organs, encouraging more cooperation and exchanges, promoting rules of law and contributing to a fair and sustainable economic development," stated Michael Ding. "For twenty years, QBPC has participated and moved forward the discussions and studies of important IP issues. Apart from commenting on IPR related laws and regulations in China before their enactment, QBPC has also become the bridge between China and the international IP community; our efforts and achievements are widely recognized by Chinese governments and international stakeholders. At the same time, for the past twenty years, QBPC has actively organized and participated in events promoting IPR protection; Among them, the selection of annual top cases, since its launch in 2002, has become an influential event among the enforcement and judicial agencies, the industry-university-research circle, QBPC member headquarters, international organizations and media; and even more so as a window for the global society to observe China's investment and IP environment."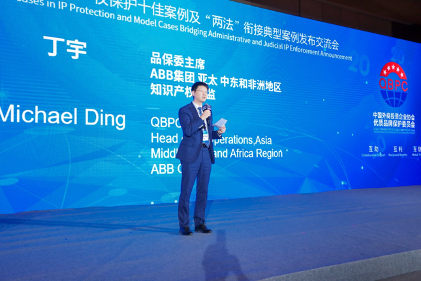 Compared to past announcements, the 2019-2020 Announcement had one significant addition: it is the first time for QBPC to nominate Outstanding Contribution Departments and Best Practice Institutions for their long-standing contributions to IPR protection and support of QBPC's mission.
While introducing this year's selection, Michael Ding said, "Cases nominated by members this year are divided into three categories – criminal cases, noncriminal cases and model cases that bridge administrative and judicial IP enforcement. After equitable, fair and open selection, 10 criminal cases, 10 noncriminal cases and 4 model cases made to the final list."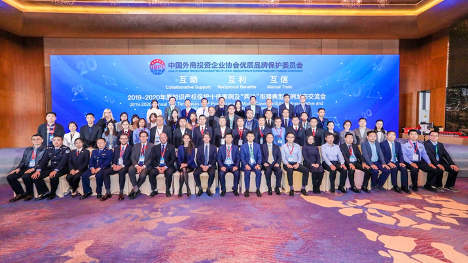 The selected criminal cases of 2019-2020 mostly concern industries that are of great importance to people's livelihood, such as cosmetics, low-voltage electrical equipment, alcoholic beverages, pharmaceuticals, luxury goods, seeds, etc., and most of them are major cases within that industry. Some counterfeiters were sentenced to years of imprisonment with heavy fines, which demonstrated China's firm determination to fight against counterfeiting and greatly deterred counterfeiters from selling counterfeit products. Cases such as selling used product as new, refurbishing and repackaging discarded parts or infringing right holders' trade dress that are typically headaches for right holders to deal with are among the winning cases. For example, Zhejiang Lanxi Zhang Wei and Zhang Xiaowei's trademark infringement case started from an "ordinary" administrative complaint; after the administrative and criminal enforcement agencies across multiple regions working closely together, with the prosecutors recognizing and respecting right holders' rights as the victims and full support from the right holders, the criminals were eventually apprehended and charged. In some cases, the right holders, prosecutors and the courts worked together to right wrongly decided cases through appeal, with increased sentences for the criminals. The results will dispel such illusion of IP violators that they can get away with counterfeiting or infringing others' IPs. They have strongly defended the legitimate rights of all parties involved and maintained good business environment in China. There are no better examples to showcase how judicial authority is re-established.
The selected noncriminal cases focus on trademark infringements, unfair competition and enforcement actions taken by the customs. Among them, bad faith registration of trademarks and unfair competitions involving design patents have severely infringed right holders' legitimate rights and caused great obstacles for enforcing the law and defending one's IP. The courts' impartial judgments have protected the interests of right holders and highlighted the importance of judicial protection of IP rights. Issues involved in this year's selected cases range from original equipment manufacturing for parties outside border, bad-faith trademark applications and registration, to changing infringing company names by administrative orders and civil damages amounted to millions, in which law enforcement, judicial authorities, and right holders fought against offenders, providing many classic cases for future practice of IP protection. The selected cases include fascinating findings on the conflict between the first-to-file doctrine and the good faith doctrine, evidence of bad faith on the part of the applicant, and liability for contributory infringement, all of which are worthy of promotion and future reference.
Model cases selected this year are cases where local administrations for market regulation worked closely with the public security bureaus. Resulted from the increasingly efficient transition between administrative and criminal enforcements, these cases are the perfect examples in which QBPC members collaborated with administrations for market regulations across the country to strengthen IP protection. By bringing products, discovered in the marketplace offline or online, that have seriously infringed others' marks or with inferior quality timely to the public security organs for criminal investigations, we will have a much better chance to uncover the entire supply chain and sales network for these infringing products. Moreover, at every stage of enforcement from accepting the complaint and determining the value of infringing products to transferring the case and conducting joint investigation, these cases have flawlessly displayed the seamless and efficient transition between administrative and criminal enforcements, which led to timely and severe punishment on criminal behaviors.
For twenty years, we have weathered through countless difficulties and walked down a path of collaboration and mutual trust. The top cases and model cases QBPC selected this year have captured the essence of IPR protection work in China; they are homages to those who have tirelessly worked in this field and the results of central and local governments' support of IPR protection. With your support and encouragement, QBPC will continue to set sail for another splendid twenty years.