On January 27, QBPC held Online Seminar on Trade Secret Protection and Risk Prevention with Shanghai Jing'an People's Procuratorate. The seminar is one of the publicity activities on the judicial protection of trade secrets carried out by Jing 'an Procuratorate. Michael Ding, Chair of QBPC, and nearly 50 representatives of member companies attended the event.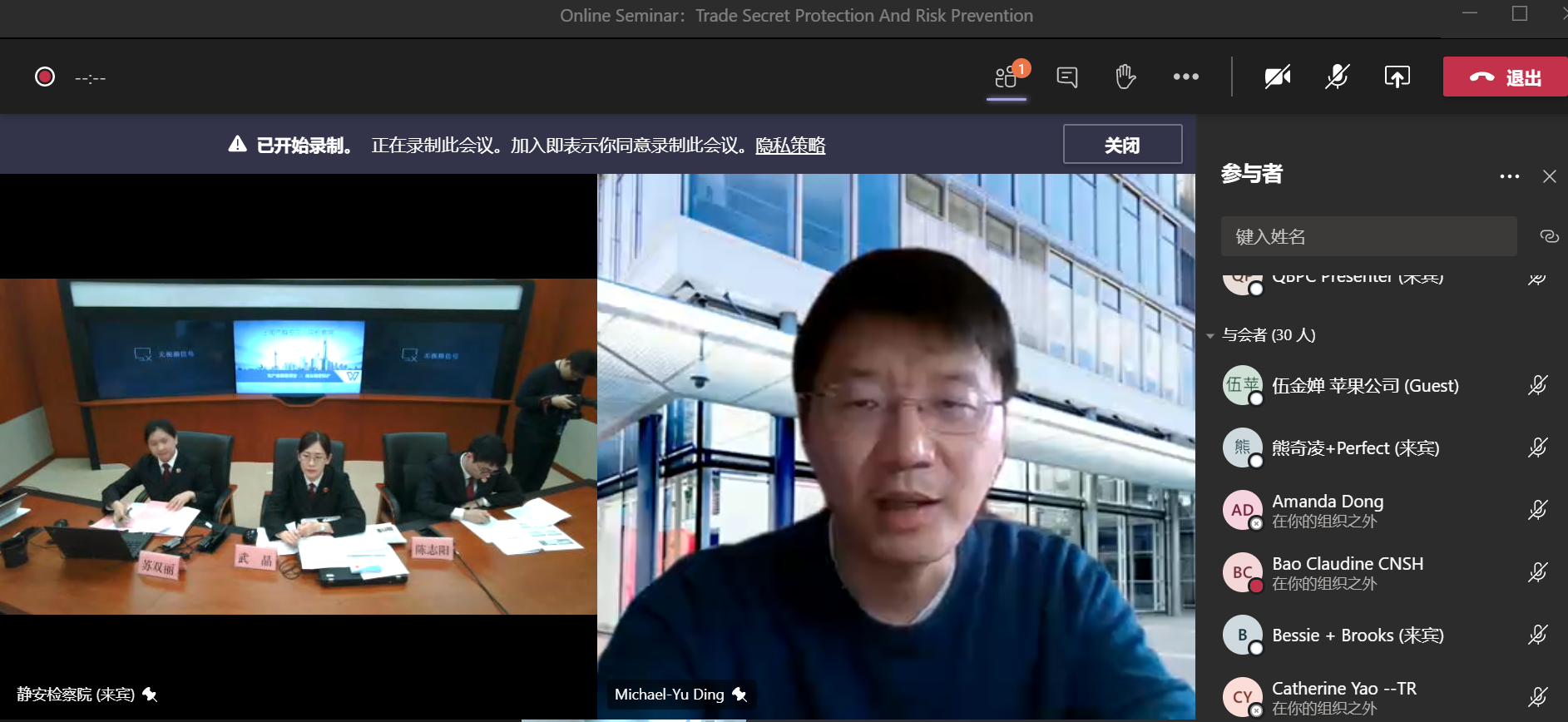 In the opening speech, Michael Ding expressed his gratitude to Jing'an People's Procuratorate for organizing the event. He said that trade secret was an important component of an enterprise's IP protection strategy, and strengthening the protection of trade secrets was particularly important for further optimizing the IP business environment and sustainable investment in innovation. He looked forward to prosecutors sharing the experience in handling trade secret cases and interpreting relevant laws and regulations. He was sure that it would definitely benefit the colleagues of QBPC members.
Based on the features of trade secret infringement cases handled by Shanghai Procuratorial Organs, Prosecutor Wu Jing and Assistant Prosecutor Chen Zhiyang of the 7th Department of Jing'an People's Procuratorate introduced the main laws and regulations related to trade secrets, analyzed the changes in the determination of the crime of infringing trade secrets in the 11th Amendment of the Criminal Law, and explained the important concepts such as heavy loss, substantial similarity and unfair means. Prosecutors also shared the typical cases of Shanghai in the past ten years. They presented new ideas and approaches for coping with the infringement of technical and information trade secrets, reverse engineering and source code infringement through analyzing the elements of the crime, case plots, legal provisions invoked and verdicts. In addition, prosecutors provided valuable advice on the composition of client lists, details of confidentiality measures, early intervention to lock down evidence, and multiple means of safeguarding rights. In the Q&A session, QBPC members had in-depth exchanges with the prosecutors on issues such as the determination of "serious circumstances", the allocation of burden of proof, and the determination of "not known to the public".
At the end of the meeting, the two sides reached consensus on future cooperation. Jing'an Procuratorate welcomed QBPC members' feedback on their problems and experience and looked forward to establishing long-term cooperation with QBPC. This is of great significance to the deep understanding and implementation of the laws and regulations as well as the promotion of law enforcement capability.