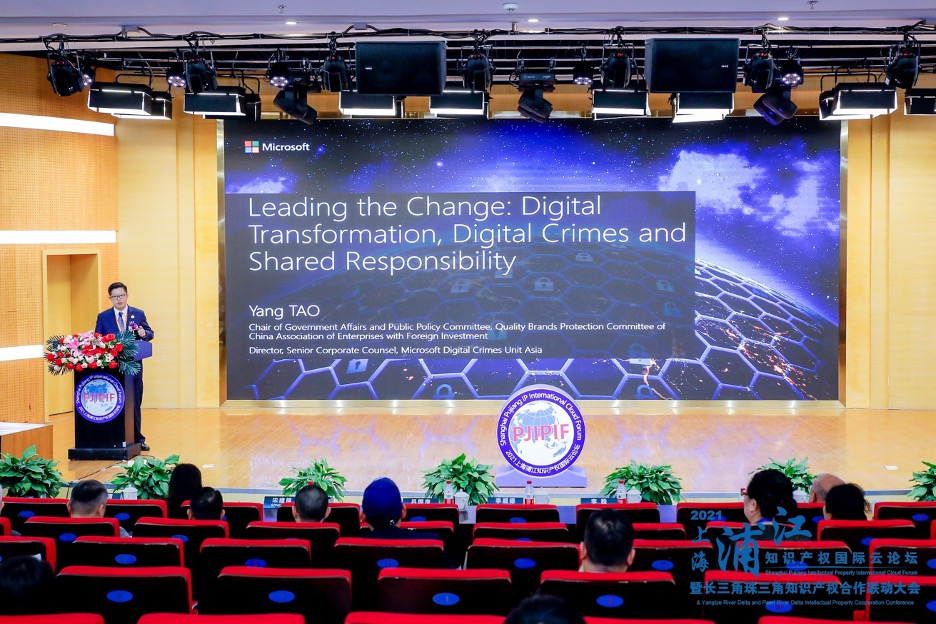 On April 16 and 17, Shanghai Pujiang Intellectual Property International Cloud Forum and Yangtze River Delta and Pearl River Delta Intellectual Property Cooperation Conference were successfully held in Zhangjiang Hi-Tech Park. The theme of the event was IP as an Impetus to High-quality Development of Digital Economy. Academics, IP experts, attorneys, corporate representatives, and more than 200,000 online participants joined the conference. International Association for the Protection of Intellectual Property China Division President, former director-general of China National Intellectual Property Administration Tian Lipu delivered the welcome remarks. Quality Brands Protection Committee of China Association of Enterprises with Foreign Investment (QBPC) Government Affairs and Public Policy Committee Chair Tao Yang was invited to speak at the conference, sharing with the audience the challenges brought by digital transformation and the responding strategies.
Digitalization has completely changed how information spreads, bringing about another round of technology revolution as well as loopholes for criminals. Since the dawn of history, people have built walls to protect themselves. In a digital world, no border could stop criminals from infringing our privacy and taking our property. Using digital tech as a weapon, globalized and organized criminal networks are invading the real world with fierce intensity. Through dark net, criminals are also selling their tool kits to less sophisticated, making the situation even worse. For example, Citadel, a malicious software, stole more than 500 million USD from some 5 million people in 90 countries, all in less than 18 months.
To face such severe challenges, we have to make efforts in the following three areas. First, collaboration between the public and private sectors is critical. Fighting cybercrimes requires us to tap into the resources and talents from both the governments and private companies. We must work with enforcement agencies, non-profit organizations, security services providers, academics, and corporations, so that we can fight cybercrimes more efficiently and more broadly. Second, we need cross-jurisdiction collaboration. Cybercrimes have no border. If a government is fighting alone, it will face jurisdictional problems. We must keep finding new ways to better coordinate global actions against cybercrimes and build strategic partnership. When possible, through protecting our clients, we may also supplement governments' anti-crime actions. To deepen cross-border collaborations requires us to work on information sharing, evidence and documents certification etc. This is exactly the direction QBPC is taking. Third, it is our shared responsibility to embrace digital technology and face the challenges it has brought. Application of digital technology is no longer limited to internet industry; traditional industries face infringements powered by new technologies just as well. Deepening collaboration among industries and sharing best practices have become very necessary. It is based on such consideration that QBPC AI&Digital IWG has organized two exchanges this year, discussing the significance of digital transformation and security strategies, with members from pharmaceutical and auto industries.
Digital technology is improving people's lives at an astonishing speed, which requires efficient support from laws and regulations in a systematic way. QBPC, as a platform that connects all stakeholders, has much to achieve in promoting international collaboration, optimizing digital economy and leveraging digital technology to improve the protection system. The National People's Congress has already listed several digital economy-related items in its legislative agenda. QBPC will pay close attention to these upcoming changes, play the role of bridge and submit constructive suggestions to relevant legislations.