On December 6, Quality Brands Protection Committee of CAEFI (QBPC) and Guangzhou Administration for Market Regulation held a close-door online session on Cross-border Intellectual Property Protection Cooperation Mechanism, which was moderated by QBPC Customs Committee Chair Angela Shi. Lin Yu, Director from IP Protection Division, Guangzhou Administration for Market Regulation, Liang Zhuohui, Inspector from Intellectual Property Investigation Bureau of Hong Kong Customs and QBPC member representatives including Florence Tam from Louis Vuitton China, Nico Wu from Apple and Jayden You from Kering respectively made presentation on relevant cross-border trademark infringement cases. QBPC Chair Michael Ding made closing remarks. Representatives from QBPC Customs Committee, Government Affairs and Public Policy Committee as well as Industry Working Groups attended the meeting and actively interacted with speakers.

Lin Yu first gave a detailed introduction of a cross-border trademark infringement case of a company in Guangzhou handled by Guangzhou Municipal Market Supervision Administration this year including its obstacles and solutions. The infringing goods were assembled and declared for export in the mainland but later detained by the Tuen Mun Customs in Hong Kong. Due to the different legal systems and local characteristics in IPR protection, there existed relevant obstacles. Lin recalled how to tackle the obstacles including the confirmation of the involved parties, the determination of the nature of the infringement and the amount of illegal gains, and finally completed the first case of cross-border intellectual property administrative protection.

The case fully displayed the efficient collaboration among Guangzhou Municipal Administration for Market Regulation, Guangzhou Customs and Hong Kong Customs. It had set a precedent for IPR protection under different legal systems as well as mutual recognition of evidence under different legal systems of Guangdong and HK. Finally, Lin proposed his views for further discussion, namely the exploration of cross-border intellectual property protection mechanism needed to "realize full chain protection of cross-border intellectual property ", " form a joint anti-infringement force against IPR infringement across borders ", and "build a rapid communication channel among various departments for cross-border IPR protection".

Liang Zhuohui shared the details of the maritime cross-border infringement case, including risk management, container picking, container inspection, case investigation, cargo verification, and how his team worked with the mainland law enforcement departments through information exchange to jointly crack down on cross-border infringement activities.

Regarding the role of right holders in cross-border IPR crimes, Florence Tam shared her experience and practices on how to obtain useful clues, how to cooperate with law enforcement departments to jointly manage relevant clues, and how to maximize the cross-border coordination. She mentioned that cross-border intellectual property crimes had been increasingly serious, which was the biggest headache for most right holders. Previously counterfeit goods were mainly transported by sea, air and personal carry. Nowadays cross-border e-commerce, China-Europe Express and others had become the main channels instead. The situation was a result of the demand for fake goods abroad. As a right holder, she hoped that domestic and foreign law enforcement authorities would jointly establish a long-term effective cooperation mechanism through working together on cross-border cases to achieve a win-win outcome.

Nico Wu said that for right holders, there were significant challenges in how to cooperate with the law enforcement authorities in both places, especially enforcement in the mainland, adaptation to different legal systems, and the submission of relevant evidential documents. She shared views on infringement determination of seized products, the determination of documents and materials submitted by the right holder, region-specific issues in trademark protection, and determination of prices. Nico said that the above case created a precedent for mutual recognition of administrative evidence between the two territories as well as handling similar cases in the future, and sounded an alarm for infringers exporting infringing goods. In future cases, right holders would continue to communicate and explore together with the law enforcement authorities in building the intellectual property protection chain in Guangdong, Hong Kong, Macao and the Greater Bay Area so as to promote the construction of a market-oriented, legalized and internationalized business environment.

Jayden You expressed his gratitude to relevant agencies. Then, he shared views on the role that the right holder should play in such cases. First of all, the right holder should make every effort to cooperate and timely provide complete trademark right certificates, appraisal report and price certificates. Secondly, the right holder should play the role of bridge between cross-regional law enforcement agencies, and take advantage of its branches in multiple countries and regions to timely coordinate and synchronize information related to the case.

Finally, the right holder should leverage the information and data related to the manufacture and sale of counterfeits. On one hand, screen out high-value targets through horizontal comparison and concatenation while on the other hand, continuously share such high-value targets with law enforcement agencies to help them identify common problems in the industry and discover common targets so as to carry out more efficient and influential crackdown actions. The above case that crossed Hong Kong and Guangdong broke the barriers of regional and legal system evidence recognition, and directly accepted the high value of goods as the amount of illegal gains as determined by Hong Kong Customs, which encouraged the right holder a lot! It was expected that the successful experience could be better promoted to further enhance cross-border intellectual property protection.

In his concluding remarks, Michael Ding said that the discussion focused on the difficulties and hot issues of cross-border IPR protection, summarized the successful experience in handling cross-border cases, and laid a solid foundation for the 1st Cross-Border IP Protection Forum to be held on March 31, 2023.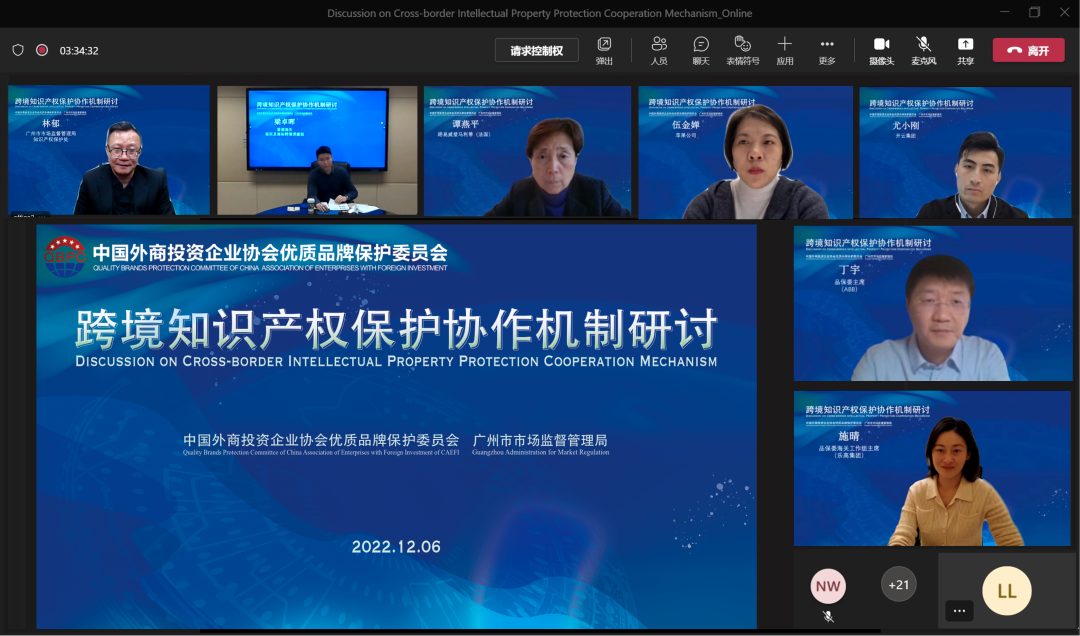 Preview: This meeting was a warm-up event for forthcoming 1st Cross-Border IP Protection Forum on March 31, 2023. The forum will invite guest speakers and representatives from relevant law enforcement departments to discuss in depth key topics including the role of right holders in cross-border cases, the circumstance and breakthrough of evidence mutual recognition, the role of Customs in cross-border cases, the exploration of cross-border criminal crackdown and the new requirements of bridging administrative penalty and criminal prosecution. Please stay tuned!